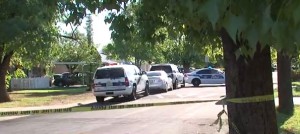 One neighbor said she believes the woman was targeted after the suspect saw the neighborhood was filled with a lot of older people. (Photo: ABC)
A Phoenix man shot and killed a carjacking suspect last week after seeing the man turn violent towards the victim — his neighbor — and his own wife, who tried to intervene.
It was about 3:20 p.m. on Aug. 15 when the 66-year-old woman pulled her SUV into her driveway and was approached by the suspect, a local CBS affiliate reported. He asked to use her phone, but she said no and explained that she did not know him.
At that point, the suspect, later identified as 29-year-old Michael Medina, grabbed the woman, pulled her out of her vehicle and threw her to the ground before jumping into her SUV. The woman's 63-year-old neighbor saw the incident and quickly came to the woman's aid. As the neighbor opened the passenger side door, Medina began to drive off, knocking the neighbor to the ground.
The neighbor's husband also witnessed the violent carjacking and, unbeknownst to the suspect, retrieved his handgun. Upon seeing both his neighbor and his wife knocked down by Medina, he fired several shots at him as he drove away in the stolen vehicle.
The man struck Medina, though it's unknown if the neighbor knew it at the time.
Minutes later, authorities were called to a nearby area where a wreck occurred. Upon arriving, they realized the wrecked vehicle matched the description of the one stolen.
Medina first hit a wall before crashing into a tree. He was found inside the vehicle with extensive injuries and transported to a local hospital where he died a short time later, presumably due to the gunshot wound. An autopsy was scheduled to determine the exact cause of death.
The carjacking victim, who suffered from severe bruising, and the neighbor, who suffered a head injury, were both taken to the hospital for treatment as well, but are expected to be OK.
"We were all worried about our neighbors here, wondering what happened, what they went through," Ruben Somoza, who lives next door, told ABC. "Our neighbors are really close, this is a tight knit family here."
And that neighbor believes the man did the right thing when he retrieved his handgun.
"We're glad he was able to do what he had to do, it's unfortunate for the guy who did it but we're glad that everyone here is OK," Somoza said.
Once the investigation is complete, the case will be turned over to the Maricopa County Attorney's Office for review. No charges are expected to be filed against the neighbor who shot Medina.
The post Carjacking suspect crashes into tree after being shot by victim's neighbor (VIDEO) appeared first on Guns.com.
Via:: Carjacking suspect crashes into tree after being shot by victim's neighbor (VIDEO)