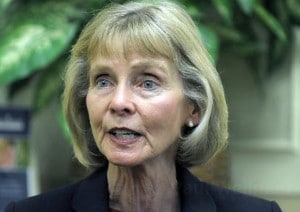 California Democratic Rep. Lois Capps has introduced a "Pause for Safety" bill into the U.S. House after bringing a leading gun control advocate to the State of the Union address.
Capps, who represents the Santa Barbara area, had invited Richard Martinez, whose son Christopher Ross Michael-Martinez was killed during the shooting in Isla Vista, California, last year, was invited to attend the address Tuesday. Using Martinez as a reference, she introduced her bill to the House the morning before.
"It has been nearly eight months since the Isla Vista community – and the nation – was rocked by the unspeakable violence in I.V.," Capps said in a prepared statement. "And the State of the Union is an important time to highlight that we will not let this issue fade without action. Mr. Martinez has dedicated his life to making sure that not one more family has to endure the pain he has. I will continue to work with him and my Congressional colleagues to push forward on Pause for Safety and other important measure to make our communities safer."
Capps's measure, H.R.410, is a 19-page bill termed the Pause for Safety Act that would create a national gun violence prevention order law. Under this law, states are encouraged to set up a program for the temporary seizure of guns from an individual at the request of their family or friends. The subject of these orders would be given an opportunity to request a hearing within 14 days to attempt to get their firearms back. In the meantime, state and federal background check databases would be updated to prevent the subject from purchasing new guns.
States that comply could seek offsetting grant funds through the U.S. Department of Justice's Office of Community Oriented Policing Services to help set up their programs.
It is an update of a bill introduced by Capps and fellow California Democratic senators Barbara Boxer and Diane Feinstein in the last Congress that failed to gain traction.
This measure is also similar to one introduced in California last year on the heels of the Isla Vista shootings and was signed into law by Gov. Jerry Brown (D) over objections from gun rights groups.
In the May 2014 Isla Vista attacks, the killer had been under extensive psychiatric care and family members did express concern, going so far as to inform local law enforcement of his behavior. California law at the time allowed police intervention only if a subject meets the criteria for an involuntary civil commitment to mental health treatment, popularly known as a "5150" in California.
Interviewing officers did not feel the suspect in the Isla Vista killings qualified for a 5150 when they met with him the month before.
Capps' bill has been referred to the House Judiciary Committee for review.
Source Article from http://www.guns.com/2015/01/26/capps-introduces-gun-violence-restraining-order-bill-to-congress/