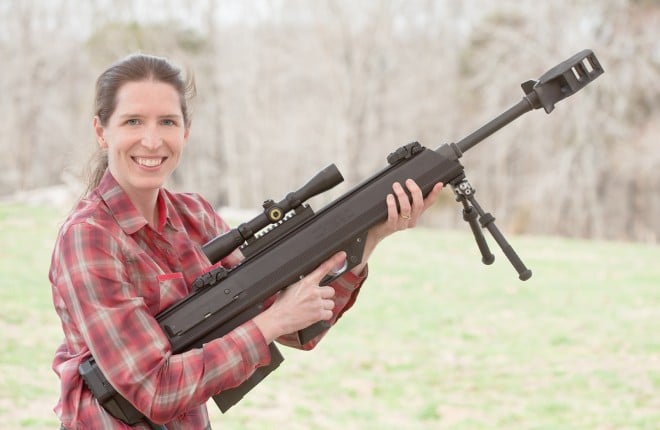 By Oleg Volk
Last year, I mentioned the Leader 50 bullpup rifle in Managing Recoil article. It's a ten-shot semi-auto bullpup of light weight and unusually low recoil. Firing it last summer, I was surprised how close the kick was to a .223 carbine. Excellent balance also allowed unsupported firing. Annular gas piston gave smooth cycling without sideways torque.
Since then, the original rifle design went on to further development in two directions, one by Pallas Arms and the other by it's inventor Charles St.George. This week, St.George Arms announced a partnership with K&M to produce the updated firearm.
So, what's new in this model? Plenty. The receiver is now a smaller, lighter and more streamlined extrusion.
The grip has been reshaped and fitted with a squeeze safety. The push-button safety of the old Leader 50 has been deleted as unnecessary.
A completely new striker mechanism has been developed. It sits below the bolt path at an angle, allowing sufficient space for a reliable design with good, crisp trigger pull.
The rifle uses standard Serbu magazines with a centrally located ambidextrous latch.
Charles St.George examined the gas flow patterns of existing muzzle brakes and developed his own variant (not shown here). His design cuts half a pound of weight while retaining the efficiency. It also uses a re-shaped protective rear shield to keep the gas flow away from the shooter.
The main claim to fame of the Leader 50A1 is the compact size: with 24″ barrel, it is shorter than an AR15A2 with a 20″ barrel. The production version would have two co-planar rails on the top for optics and other accessories.
Via:: Bullpup .50 BMG: St. George Arms Leader 50A1