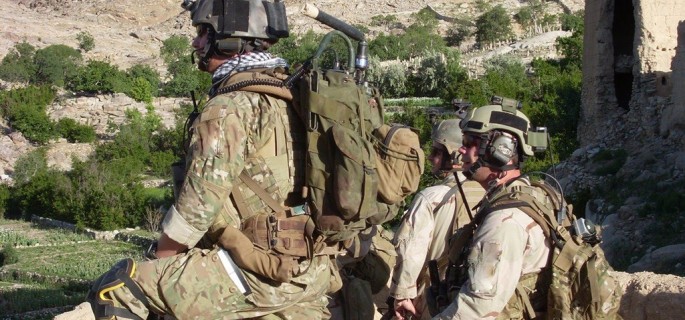 Two weeks ago, most of world news agencies had prepared report about final fall of Kobane, a city in Turkish-Syrian border.  Jihadists from Islamic State had under control more than 40% of its territory.  The agencies were preparing for attack on Turkey and United States foreign policy and then a positive shock.
Kobane, not only did not fall, but in next few days the fighters from Islamic State were evicted from all city neighbors under their control. In the air was a question – What happened? And answer for that mystery is revealed this weekend.
The British troops called in several air strikes, killing dozens of IS fighters and halting their advance towards Kobane, just inside the Syrian border.
In one attack, SAS guided warplanes into an area where IS fi ghters were massing for an attack The US jets dropped several 500lb bombs into the area, killing and injuring dozens of fighters.
In another strike the SAS pinpointed the location of a large convoy of tanks, armoured personnel carriers and ammo trucks heading towards the area. An SAS team hiding in the surrounding hills directed two US combat planes into the area.
The pilots then swooped on the convoy, destroying the vehicles with missiles and bombs. One source last night said: "The SAS deployed to the area around Kobane a couple of weeks ago and have done themselves proud.
"The US pilots think they are absolutely great. They have manoeuvred themselves into some great positions so they can call in air strikes against IS militants.
"They have done this at no small risk to themselves. If their positions had been identified by IS they would have been lucky to escape with their lives. "The conditions for the British soldiers have been very testing."
"Their role in the battle for Kobane probably saved hundreds of lives"
One source
"It's been extremely hot, they were living on meagre rations and had to be sparing with water.
"But their role in the battle for Kobane probably saved hundreds of lives." The SAS have mainly been active in Iraq over the last two months but some members of the elite unit were sent into Syria when Kobane looked as though it might fall into IS hands.
Sources added that US Delta Force troops and the SAS were able to cut off fl anking assaults by IS militants trying to encircle the town.
"Every time the jihadis tried a move, the guys would zap them. It was brilliant," a US source added. Last week footage emerged of a devastating Western air strike on IS thugs who had planted their fl ag on a hilltop overlooking Kobane.
The SAS have been involved in the military action against IS for the past two months. The troops have been based mainly in Iraq where they have co-ordinated air strikes and have helped to train local militia forces.
Around 200 Kurdish fighters trained by the SAS will join the battle for Kobane in the next few days.
The British troops have taught the Kurds how to use heavy machine-guns and direct mortar and artillery fire on to enemy positions.
Related posts:
Source Article from http://www.special-ops.org/british-sas-delta-forces-saved-kobane-jihadists/