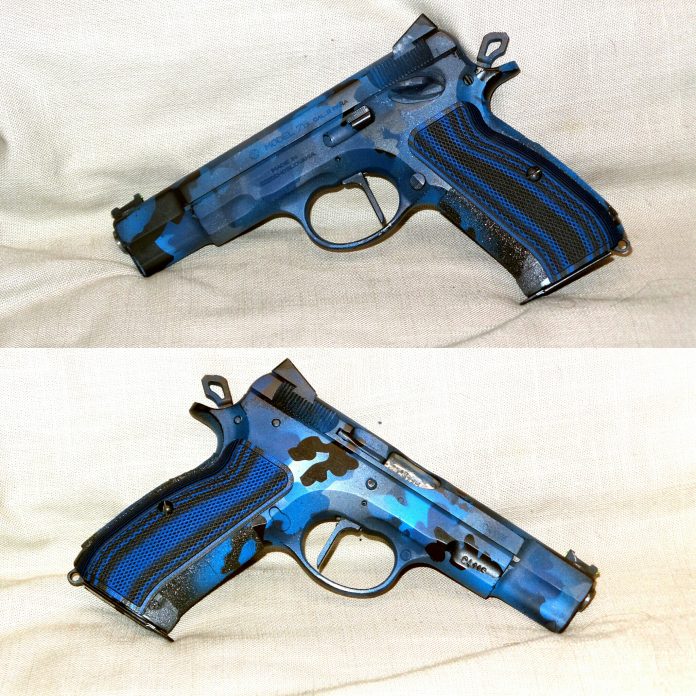 In the dark ages of the 80s, the CZ75 was as rare as a unicorn here in the U.S. This was because it was built behind the Iron Curtain in the U.S.S.R. occupied country of Czechoslovakia. Very few found their way here and they commanded ridiculous prices.
I was fortunate to get one from a friend who was assigned to a unit in West Berlin. Until last year it sat in my vault, because it was a traditional DA/SA. It was built years before decocking levers were installed pistols. It also had sights that were as useless as those on early 1911s and Hi-Powers.
Since I am not a fan of "safe queens", this past year I decided it was time to upgrade the CZ. With the front sight being machined into the slide, a new one would need to be machined in and an appropriate height rear sight would be needed. The pistol would need to be converted to single action only as well.
Without a mill, this job was out of my skill set. The obvious choice for work on a CZ was the CZ Custom Shop (czcustom.com). After all CZ pistols is what they specialize in. After a few emails to exchange FFLs, she was off to Arizona. The work order was simple; new sights with a fiber optic front and convert her to single action only with a new hammer and flat trigger.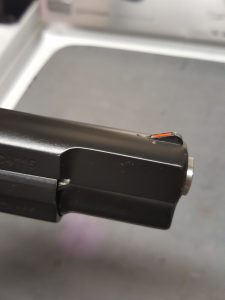 A few months later I received notice the CZ was ready to ship. When the big white FedEx truck arrived, I was thrilled. It was like getting a brand new pistol, but at a substantially cheaper price.
The sights are awesome. The rear is a Novak style with square notch that mated perfectly with the fiber optic front. I was amazed; there was a visible front sight. I knew this would make the pistol instantly more user friendly and bring out the accuracy CZs are known for.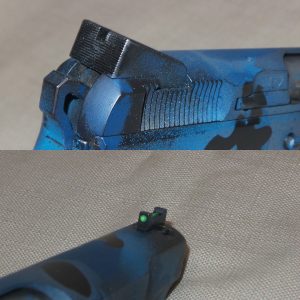 I then realized the tang hammer was gone, replace by a "commander-esque" one. Also the long curved trigger was replaced by the flat trigger I wanted. CZ Custom also replaced the trigger pin. Apparently the original was had broken and the troops replaced it with an appropriate sized Allen wrench cut to fit. As instructed the trigger pull was four pounds to match my other single action pistols. I know many folks who run and gun prefer them much lighter, but I am not a fan of two poundish pull weights.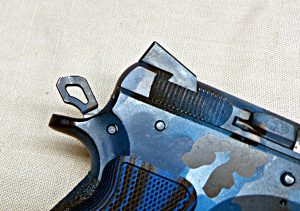 The pistol needed one more item, good looking functional grips. The Hogue rubber grips were serviceable but that was it. When I perused VZ Grips (vzgrips.com) there a pair of blue and black Diamondback G10 grips on clearance that were perfect. A few days later they arrived and fit like a glove. To finish the grip, I applied anti-skid tape to give a secure grip in any weather condition. These additions are visible in the photos throughout the article.
With blue and black grips, the all black pistol needed a new look. Thanks to Duracoat (duracoatfirearmsfinishes.com), the CZ would soon sport a blue and black camo finish. I know this will not set well with diehard traditionalists, but I wanted my pistol to be unique. This finish would do that and protect it from the elements as well.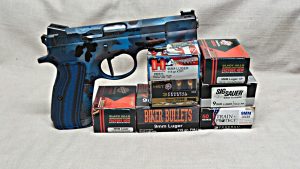 A good looking improved pistol is all well and good, but it has to shoot well too. It was time to head to the range and check the accuracy. I gathered up mixed loose factory ammunition to test the reliability and several boxes of factory ammunition. Test ammunition included Black Hills (black-hills.com), Federal (federalrpemium.com), Hornady (hornady.com), Remington (remington.com) and Sig Sauer (sigsauer.com). Bullet weights ranged from 100 grains to 147 grains and included BHA's Honey Badger, full metal jacket and various hollow points. This mix would cover ammunition for practice, competition and self-defense.
Not surprisingly the CZ had no feeding or extraction issues. I had not expected any issues since it never had any reliability issues before. What surprised me is the accuracy. Having functional sights dropped the 11 shot group from 4" at 25 yards to 2 ½". I shot 11 because that is the maximum capacity in some progressive socialist states. When I shot 5 shot groups they were all sub 2 ½", for a beat up old GI that's about as good as it gets.
Firing off hand at ranges from 7 yards to 25 yards it was easy to keep all rounds in the A zone of a USPSA target. The all steel pistol with the perfectly executed beavertail kept the pistol on target and the new sights quickly settled where I wanted they needed to be for accurate shots.
If you find an older used pistol, be a CZ75 like this or GI style 1911; do not overlook them. You can build a pistol to fit your needs and for a fraction the cost of a new custom pistol. When you get that new rebuild, get out to the range and shoot safely, accurately and have fun.