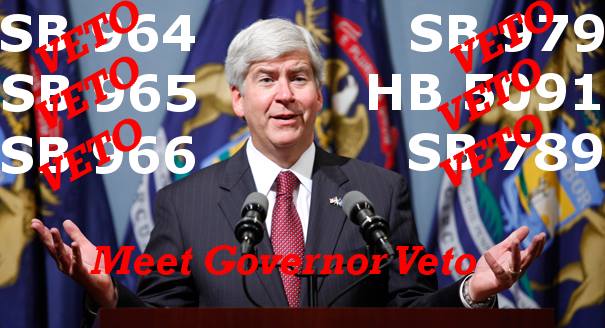 Gov. Rick Snyder (R) rejected a pair of pro-gun bills Thursday that would have done away with Michigan's unique system of county gun boards, echoing concerns voiced by gun control groups over domestic violence issues.
The two measures, which passed the state legislature with broad bipartisan support in December, would have torpedoed the long-standing county gun boards that permit applicants have endured for years. In addition to decommissioning the boards, the measures would have slashed permit costs and streamlined and the state's renewal process.
"While the bills include a number of reforms I support, they also include changes to he concealed pistol licensing requirements that may increase the risks of violence and intimidation faced by victims of domestic abuse who seek protection in court," said Snyder in a veto message emailed to Guns.com by the Governor's office.
The two measures, Senate Bills 789 and 790, enacted in tandem would have mandated an end to the review board process across the state. In lieu of these regulatory bodies, county clerks would have assumed the task of issuing concealed carry permits as long as the applicant met all requirements and passes a background check from the State Police.
Although the boards are largely a rubber stamp as their ability to deny permit applications are limited, gun rights groups both in the state and nationally supported the measures as removing an extra hoop for gun owners to jump through.
Gun control groups, however, made the legislation a rallying call, claiming that with the boards gone it would have allowed some applicants with restraining orders against them to obtain a concealed carry permit. As such, they mounted an intensive campaign in recent weeks calling upon Snyder to veto the measures. This included a letter from former U.S. Rep. Gabrielle Giffords cosigned by a number of domestic violence advocates.
U.S. Rep. Debbie Dingle (D-Mich) also lent her voice to the call for veto on similar lines.
The National Rifle Association called foul on this and urged members in the Wolverine State to call Snyder to in turn contact the governor with their support for the measure.
"Over the past two weeks, numerous media outlets and anti-gun organizations have attacked SB 789 based on a false assertion that the bill requires concealed pistol licenses to be issued to persons subject to personal protection orders for domestic violence or stalking," cited an alert from the NRA's Institute for Legislative Action posted Tuesday. "This statement and belief, whether genuine or manufactured, grossly misrepresents the contents of the bill and current Michigan law regarding personal protection orders."
The news of Thursday's veto brought quick celebratory announcements from a national gun control organization.
"After years of operating in state legislatures unchecked, the NRA's agenda of putting gun manufacturers' profits above the safety of women is now being defeated in state after state," said Shannon Watts, Founder of Moms Demand Action in a statement obtained by Guns.com. "A recent study of women killed by their intimate partners showed that one out of five women who had an active restraining order were killed within two days of receiving it. Guns and domestic violence are a deadly combination that Governor Snyder rightfully rejected by vetoing this dangerous legislation. Michigan women and families will be safer for it."
Source Article from http://www.guns.com/2015/01/15/breaking-gov-snyder-vetoes-2-pro-gun-concealed-carry-reform-bills-in-michigan/