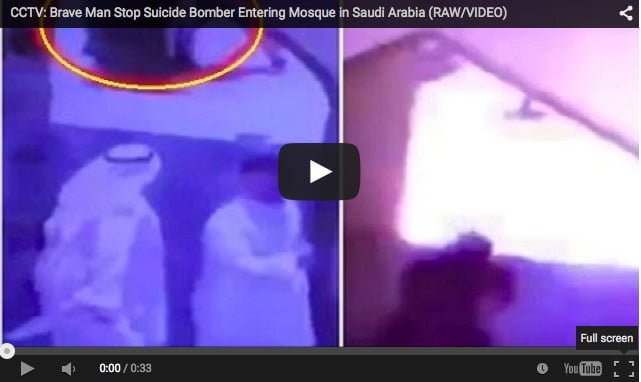 Horrific CCTV emerged, showing the moment when a security guard pushed a suicide bomber away from the entrance of a busy mosque in city of Dammam in Saudi Arabia. That was a selfless act of bravery that saved dozens of lives – but cost a security gurad his own.
The grainy footage shows allegely ISIS terrorist, dressed in a woman's burka, attempting to walk into the entrance of the Shia Imam Hussein mosque in Dammam, eastern Saudi Arabia.
But before he steped inside the teeming building, a security guard intervenes and starts pushing him away from the crowds in manner to prevent tragedy.
Only few seconds later, as the security guard and suicide bomber vanish off screen, a huge explosion lights up the area when the ISIS suicide bomber detonates his bomb, killing himself and three others.
The person, a security guard on screen is not officialy identified, but in the aftermath of the bombing 25-year-old Abdul al-Arbash and his cousin Mohammed Bin Isa were recognized and praised as the two volunteer guards who chased down the terrorist.
According to the local reports, al-Arbash was student of electrical engineering at Wichita State University in Kansas. In the moment of suicide mission, he was guarding the mosque alongside Mohammed bin Isa.
The attacker, later named as Abu Jandal al-Jazrawi, reportedly dressed as a woman in traditional burka in attempt to sneak into the mosque. The mosque was full of Shia Muslims, a denomination hated by Sunni ISIS members.
In first manner suicide bomber was turned away, but then he tried to drive a car at the front entrance when he was stopped by the two men, reportedtly recognized as Al-Arbash and bin Isa.
Shortly after al-Arbash and bin Isa ruined his plan, ISIS suicide bobmer al-Jazrawi set off his explosives in the parking lot, killing killing himself along Al-Arbash and bin Isa and one other victim.
Source Article from http://www.special-ops.org/12500/brave-security-guard-pushed-suicide-bomber-away-from-mosque-seconds-before-blast-video.html