Promised to be capable of winning matches out of the box, the P320 has many competition features, plus home defense capability.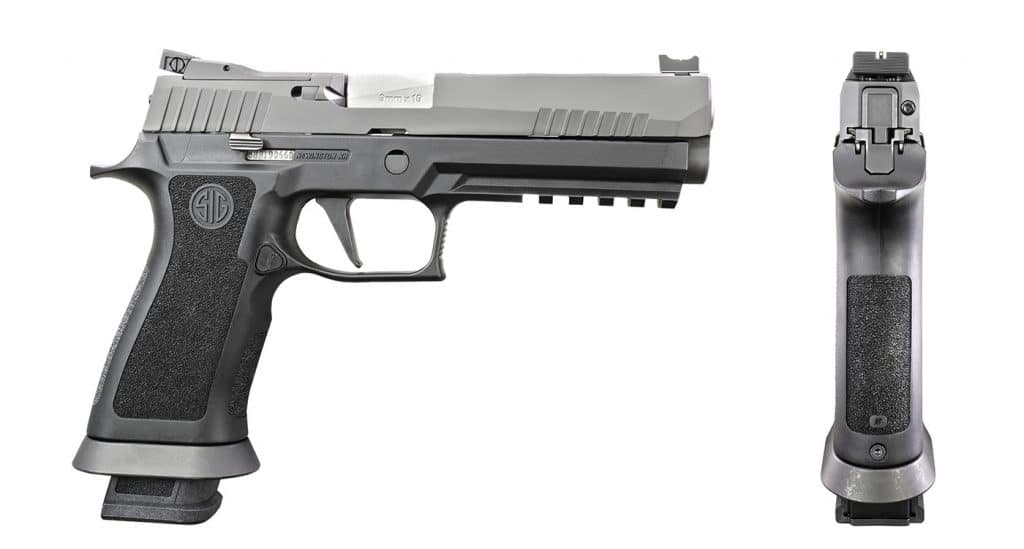 The SIG SAUER folks had a "SIG Day" before the SHOT Show opened in Las Vegas this year, and I got a chance to shoot the new high speed, low drag version of their P320 pistol, the X5. The "X-Numerical" series has hitherto been a sobriquet reserved for the master gun shop in Switzerland that is to SIG what the Performance Center is to Smith & Wesson.
How high the speed, how low the drag? It came with a 5-inch barrel, cutaway slide, and Dawson Precision adjustable rear sight coupled with green fiber optic front. A straight trigger with "flat surface that breaks at 90 degrees results in the best factory P320 trigger yet" according to the SIG website, is part of the package. So is a humongous magazine well that is belled in every direction. The rear sight rides on a removable plate, under which is a mounting space for one of SIG's Romeo red dot carry optics.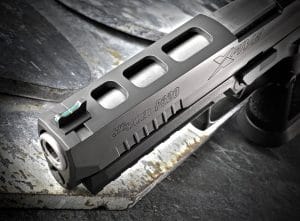 The grip module, which they call an "X-grip, is well stippled for secure grasp. The back strap sweeps up to a beavertail that helps guide the hand into firing position when drawing quickly, and the front strap is undercut up under the rear of the trigger guard, in hopes of allowing a higher hand grasp.
On Target's test sample was chambered for 9mm Luger and came with four 21-round magazines. This is proof positive that folks who knew what a competitor needs in the action pistol sports had a hand in putting the P320 X5 package together.
Behind the Trigger
The P320 X5 has a straight trigger, but it's still a pivoting trigger, which means that the principle of leverage holds true and it will require less pressure at the toe (bottom point of the trigger face) to discharge than it will at the center, where the index finger most naturally comes to rest. So, on a pistol like this, I weigh it from both locations. Perhaps due to the geometry of the flat-faced trigger, there was very little difference between the two weight measurements, less than half a pound.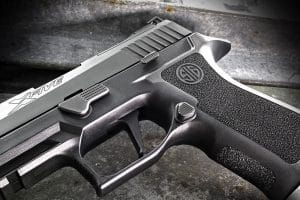 At the toe of the trigger, our digital Lyman pull weight scale averaged 5.53 pounds. Perhaps not coincidentally, that compares to the 5.5 pound standard for "duty" pull weight on a striker-fired pistol that goes back to the introduction of the ubiquitous Glock more than 30 years ago. From the center, probably the more relevant measurement for practical purposes, the P320 X5's trigger pull averaged 5.95 pounds—awfully close to the six-pound duty pull weight minimum I keep hearing about from Smith & Wesson M&P armorers.
Bad news: that's heavier than a lot of pure target shooters want for their purposes. Good news: it's heavy enough to "pass the liability test" for home defense use. I'm referring here to something we've seen again and again in unmeritorious criminal charges and lawsuits arising out of objectively "clean" self-defense shootings.
I would have sworn that the trigger on the P320 X5 we test-fired at the SHOT Show had been much lighter. I asked my girlfriend, a nurse, "Could this be a sign of early Alzheimer's?" She replied, "Honey, at your age, it ain't early."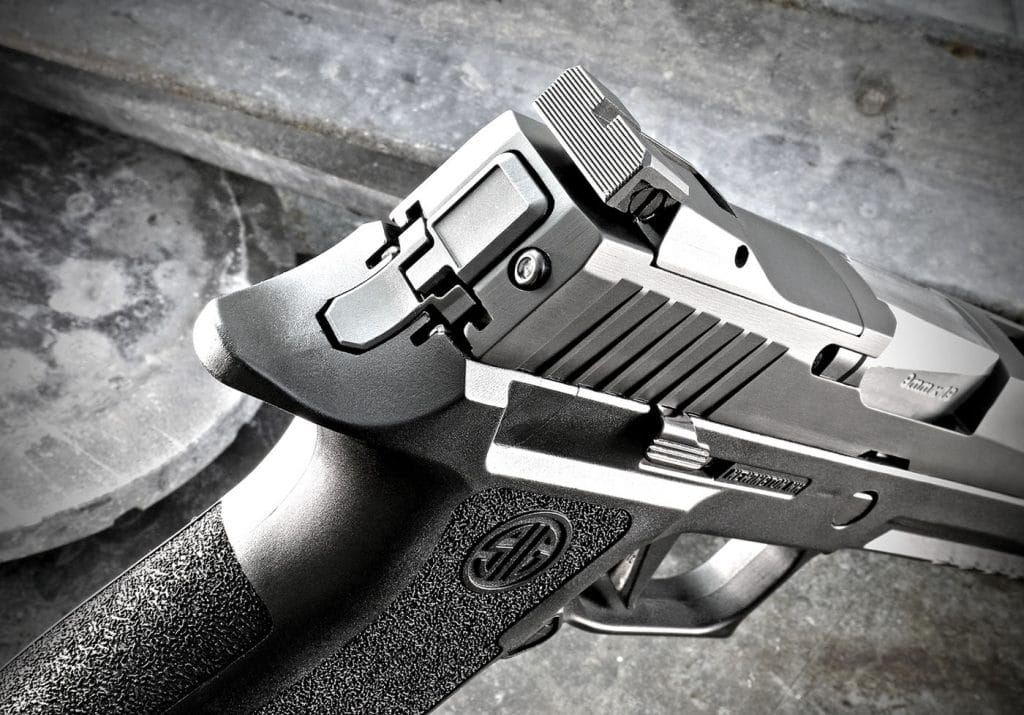 However, she's a pistol champ herself and she too remembered a lighter pull on the pre-release sample a few months before. SIG has recently made the very smart move of hiring a world-class shooting champ, Phil Strader, as their Pistol Product Manager. Phil confirmed that I wasn't an Alzheimer's patient, at least not yet. Phil told me, "I made a few changes from the original concept after I was hired. The original trigger on what they were calling the P320 Target was quite light, but it was a totally new design and wasn't compatible with legacy 320 systems. That, as well as the liability of an overly light trigger on a striker-fired system was a bit more than I wanted to gamble with . . . the specs should be nearly identical to a standard 320 since the trigger group is the same. The only exception is the straight trigger, which gives it a bit of a different feel. The trigger pull is around 5- to 6-pounds, depending on where you put the trigger weight. It can be adjusted with aftermarket parts (such as Grayguns and/or Apex kits) but it is not, by definition, a factory-adjustable trigger.
Accuracy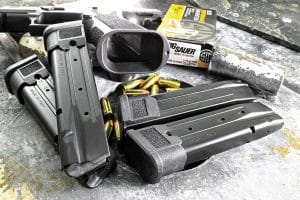 A match gun should be accurate. We tested from the Caldwell Matrix rest on a concrete bench at a measured 25 yards, with the three most popular 9mm bullet weights. Each group was measured once for all five shots, just as it would be at a match, giving an idea what we might shoot at that distance without the rest if we were more stable than most of us are. Each group was measured again for the tightest three among those hits, because testing has taught us this gives a very good approximation of what the gun can do for all five from the machine rests most of us don't have access to.
For the popular 147-grain subsonic loads, I used Federal's economical American Eagle brand with copper-jacketed, truncated-cone bullet. The aiming markers I was using were Birchwood-Casey Shoot-N-C bulls-eyes, five and a half inches in diameter. The test SIG shot a tad left for my eye, and I wound up with 49 points out of 50, with four hits in the 3.4" diameter 10-ring, and one just outside in the 9 ring. I was shooting for group instead of score, though, and the five hits measured 1.45" center to center, with the best three in 9/10ths of an inch.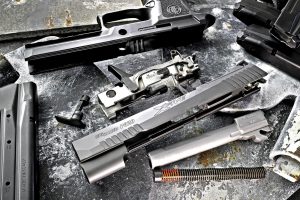 For a 124-grain—and because the trigger convinced me this P320 X5 would be suitable for a home defense gun—I wanted to try a jacketed hollow point. It seemed appropriate to use SIG's own brand of ammo in their V-Crown flavor. The five shots plunked into 1.80", and once again with four 10s and a 9 because I was shooting left. The best three were in 0.65".
At IDPA and IPSC matches, I've noticed that shooters who don't load their own are more likely to shoot Winchester White Box full metal jacket than anything else, simply because they're sold so cheaply at big box stores like WalMart, said to be the nation's largest seller of firearms. That made WWB a logical choice for the 115-grain load. Our P320 X5 turned out to deliver champagne performance on a beer budget, because this cheap ammo gave the best groups in both measurements: 1.35" for all five, and a mere 0.30" center to center for the best three. Those three shots were in a super-tight cluster, and there was also a very tight double with the SIG ammo. All five of the Winchester rounds were in the 10 ring, scoring a "possible" of 50 out of 50 points.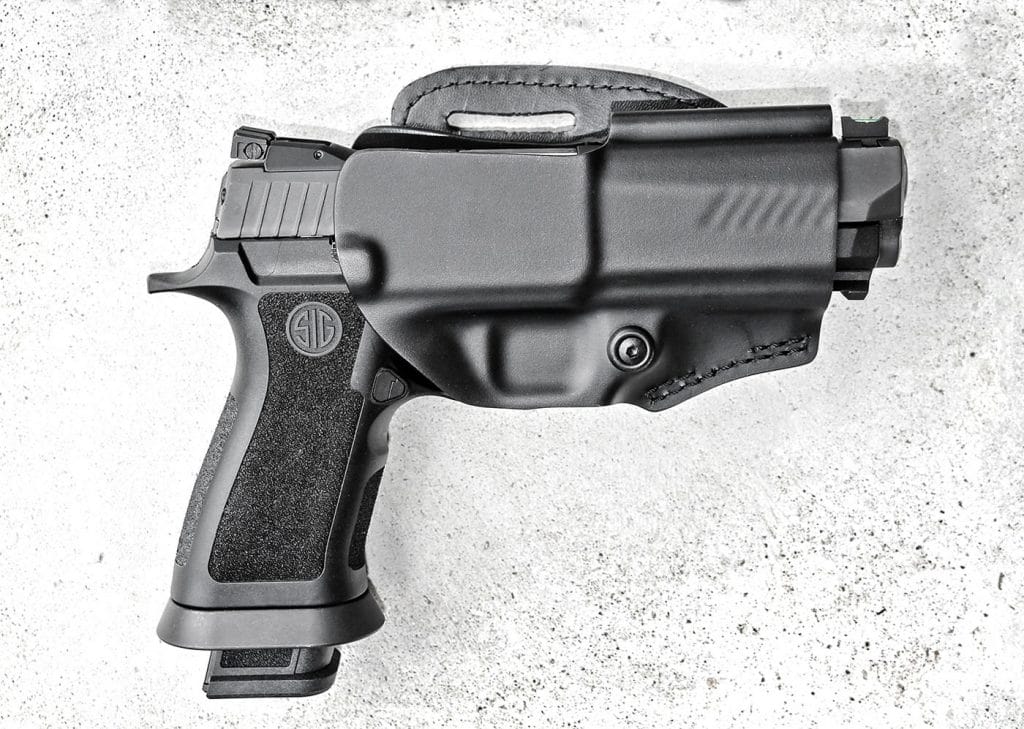 Let's analyze that. Average 5-shot group: 1.53", including probable unnoticed human error in aim and trigger press. With those elements factored out as much as possible with the 3-shot group measurement, we were looking at an average accuracy potential of less than two-thirds of an inch, 0.62", at 25 yards.
That, brothers and sisters, is definitely "match accurate." The gun shot a little left for the old guy here. Well, that's what the adjustable sights are for. No problemo.
Shooting the P320 X5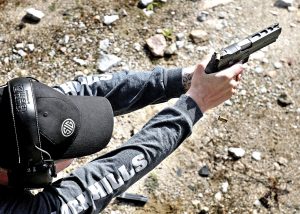 It would have been logical to shoot a match with the test gun, but local match schedules didn't intersect with mine, so I took it to my Bianchi Plate range and duplicated the challenging Bianchi Cup Stage IV course of fire with it. 48 shots, only one shot allowed at each plate: Six seconds at 10 yards, seven seconds at 15, eight at 20 and nine at 25 yards, each set done twice. I rushed a shot and missed one plate at 15 yards and blew the very last shot at 25, but that was my fault, not the SIG's. I left with the impression that this gun, out of the box, was sufficiently accurate and shootable to win the Bianchi Cup in steadier hands than mine.
Reliability was 100%. The several hundred rounds we put through it included ball, hollow point, and even a few magazines of reduced power match 9mm "wuss loads."
A relatively high bore axis notwithstanding, the P320 9mm has very little muzzle jump; the green fiber optic front sight is back on target by the time you've reset the trigger if your stance and grip are solid. The long, tapered magazines glide effortlessly into the seemingly flower pot-size mag well, which is removable via a single set screw. Even when filled with all 21 rounds and the slide forward, the magazines seated easily and solidly. The X5 definitely made friends among the test team.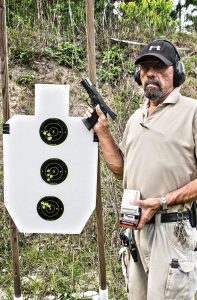 IDPA Five-Gun Master John Strayer, now shooting mostly USPSA competition, had recently gone to a P320 Compact for a carry pistol and was particularly interested in the X5. His first five rapid-fire shots at seven yards punched a dime-size group. He then ran it over a Single Stack Classic course of fire he had set up at his ProArms Range. John's verdict? "It's dead nuts accurate, and handles nice. It has a really cool look to it, too. I'm going to buy one!" He was as good as his word, and ordered one the next day.
Allen Davis is a division champion shooter currently running a Glock in competition. He said, "I'm not a SIG guy, but I like this one. I'd be more interested in it in .40 S&W so it would score Major in Limited division." Alan's wish is already granted: the P320 X5 in .40 S&W, with 18-round mags, is scheduled at this time to hit dealers' shelves toward the end of 2017.
And me? Suffice to say I bought the test sample, strictly for sporting use, and I see an aftermarket target trigger in its future. At an MSRP of $1,005, the SIG P320 X5 will outshoot many higher-priced pistols. See it at your nearest dealer, or for more information, contact SIG SAUER, Dept. OT; (603) 610-3000; Web: www.sigsauer.com
Source Article from http://ontargetmagazine.com/2017/10/out-of-the-box-match-pistol-sig-p320-x5/