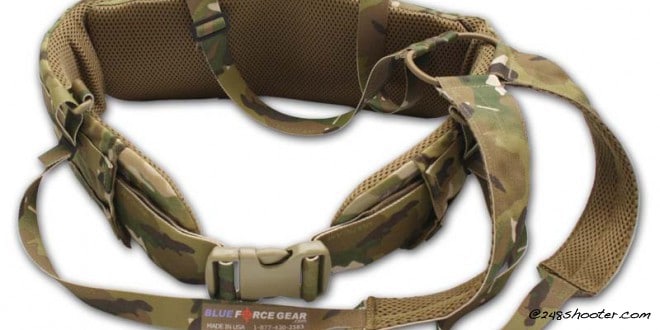 Recently we attended the Patriot Defense Training Carbine level 1 course. Part of the requirements listed for the class included a way to carry 4 AR-15 magazines and 3 pistol mags. They recommend either a warbelt, chest rig, or mag carrier on a duty/leather belt.
Looking over the large collection of gear that I have amassed over the years it was plain to me this could go a few different ways. The easiest would be the army surplus chest rig I had purchased for $30 at the Novi gun show. I had plenty of mag carriers for it that worked and it was cheap. The disadvantage to this was the chest rig would make prone shooting very uncomfortable and the weather called for 80+ degrees and the course was in full sun. The added heat of the chest rig would have made for an uncomfortable day. As it turns out I saw people taking off their chest rigs throughout the day at each possible opportunity.
The other option was to approach this as a train as you are in the field solution and get mag carries on my leather EDC belt. While I agree that training as you carry makes the most sense lets face it I do not carry an AR-15 everyday. If the day comes that SHTF so badly that I am sporting my AR-15 then I would not be sporting my leather EDC belt I would be using a warbelt or chest rig.
So after a lot of research and conversations with those that know more than me the choice became the Blue Force Gear SOC-C Modular Padded Belt. Here is why I picked this belt instead of the hundreds of other options.
Made in the USA

Lightweight 21.2 oz
Available suspenders to help with my odd body shape.
Adjustable waist sizes between 30" and 46".
Allows securing of drop-leg accessories, pouches, and holsters in any location on the inner belt.
Foam inserts for comfort, support, and stiffens the belt system
Minimalistic form allows for no extra body heat
Rugged and battle tested in the sandbox and other military zones
Can be worn with a chest rig or plate armor if needed
Thick and solid buckles that can be replaced with Cobra buckles
Anyone who is familiar with us knows that the quality of the companies' we do business with is as important as the product the produce. We have some products that we have reviewed and liked but the experience of the people we worked with to get the product was so awful we did not want to share the review. Blue Force Gear is by far one of the easiest companies we have ever dealt with. Not only is shipping fast and the customer service phenomenal they stand behind the product with a Lifetime Warranty. My order was shipped the day I purchased; the box was very well packed and arrived on the shorter side of the estimate.
What we ordered for testing was the following:


SOC-C Modular Padded Belt System


Objective Site Sack / Pouch
Ten-Speed
Ten-Speed Triple M4 Mag Pouch
Ten-Speed Double Pistol Mag Pouch
When it all arrived the initial thoughts were the products came very well packaged and secured. The pouches came on stiff cards that allowed you to easily remove the gear and save the cards if wanted. The SOC-C Modular Padded Belt System came in a bag with all the pieces for assembly. Included in the package was:
SOC-C Low Profile Suspenders

SOC-C Duty Belt
2 SOC- C padded side panels
1 SOC-C Padded back panel
Detailed picture instructions for assembly
Assembly of the belt was easy if you follow the instructions. In my haste to try it on I made a few mistakes. Here are some tips for those of you interested.
When you try on the belt to size it for your waist be sire to place it exactly where you intend to wear the belt be that higher or lower then your hips or waist
Add at least 3-4 inches of room to account for the padding of the rear and side panels
Pay attention to the position of the buckle in the diagram to not assemble it all backwards
With those tips in hand and possible 1 additional waist adjustment after you get it all together you are good to go. Total time if done from start to finish without a hiccup is 5 minutes at most and 15 minutes for the dyslexic like me. Adding the OSS (Objective Site Sack / Pouch) and safety lanyard would add 1 more minute.
The Ten-Speed mag pouches are all installed using MOLLE but not your average MOLLE. All of the Blue Force Gear that we have evaluated uses the proprietary Helium Whisper technology. Surely Helium Whisper technology is just another proprietary name for MOLLE right? Wrong!  Helium Whisper technology is a single piece back panel made out of an ultra-light, extremely durable high performance laminate which works to drastically reduce the number of parts that are used on outdated MOLLE attachment backing.
The Natick Snap system, the most common MOLLE attachment backing found on issue pouches, consists of 27 parts at roughly 84 grams or 3 ounces. Helium Whisper™ reduces just the backing down to 6 parts at almost half the weight of roughly 44 grams.
Metal snaps used on traditional pouches can break or bend which is not easily repaired in the field. Metal is also hot, cold, sharp, and hard. Metal parts on gear or equipment pose a secondary fragmentation threat to the wearer or bystanders. Helium Whisper™ backing snaps are replaced by tucked under hook and loop a battle tested method brought on by the Ten-Speed™ line.
The design of the stiffened straps  in traditional MOLLE is also inherently weak. Straps that hold the pouch on to a vest are made from separate pieces sewn on to the pouch backing. You may find you need to drag a downed buddy or carry gear by the pouch. The integrity of that pouch and possibly life itself is being held to the vest or pack is only as strong as the thread and just one inch of stitching. With Helium Whisper™ the attachment straps are integral to the pouch and not sewn on, eliminating the possibility of stitching failure.
So in short Helium Whisper attachment systems are lighter, stronger, pose less risk to the user and could be the material that makes the difference between life and death.  If that is not enough of a reason to buy Blue force gear then I am not sure what is. Don't worry though we have a lot more great information that may push you over the edge.
This system is also easier to set up and attach than the stiff MOLLE straps found on much of the surplus gear available. If you are new to MOLLE and do not know how to properly install it check out this great video from Blue Force Gear.
Enough about MOLLE and how to attach it. What about the gear? Well once assembled this belt is the single most comfortable piece of gear I have ever worn. Here is why:
You are a standard size frame belts are more comfortable than vests/ chest rigs

The padding on this belt allows for the weight to be comfortable and evenly distributed
The suspenders will fit under a chest rig or stand alone and are fully adjustable for any size frame
Having the suspenders hold some of the weight of the belt spreads out the weight and makes sure you never worry about the belt shifting off your body
Fit below a chest rig and high enough I could attach a paddle holster or a drop leg holster below it. (Video Here)
Standing, prone or crouching I found my gear comfortable and out of the way but accessible
No matter how much gear I have loaded into my BFG SOC-C it always feels like less weight then compared to my chest rig. Also since it is around my waist it adds no extra pressure to my chest when running or breathing heavy. That was the largest advantage over the chest rig was when we did prone shooting. Because of the shape of the side panels and the buckle you can lay down with a fully loaded belt without any chest pressure or uncomfortable snaps or buckles digging into you. Arguments could be made that any belt system offers this advantage and though to a certain level that would be true other systems do not offer the same placement and padding of the side panels that evenly distribute the weight and reduce pressure points.
The rig is designed to be Modular so that it can change and adapt as your needs or situations change. The back panel is made up of 7 columns of MOLLE to attach gear to and each side is set with 9 additional columns, that gives you a total of 25 columns of available MOLLE attachment. The OSS pouch also goes under the padding so adding it to your rig will not take up any MOLLE space.
For the initial testing we ran the AR mags on my left (ND side) and my pistol mags just forward in the 2 o'clock position forward of my pistol on my dominant side. The OSS pouch was set up like a tail at my 6 o'clock, and used to dump empty mags and spent brass into. For an all day course with intense training this setup proved to be extremely beneficial.
The dump bag or OSS pouch was one of those afterthoughts when purchasing but when out in the field it became a necessity. Putting empty mags or partially spent mags back in a mag pouch is a horrible practice. Throwing them on the ground or just tossing them aside can be a waste in training and a huge loss in the real world. Having a "safe" place to put them where you will not accidentally try to reload them into your weapon is a necessity. The OSS bag rocks for this.  As you can see in the image below the pouch is completely hidden and out of the way from snagging until you need it. Pull the tab and you are ready to rock in a fraction of a second.
The Ten Speed mag pouches are not like anything I have used before. In the past I have used polymer or kydex holsters that maintain a rigid frame even when not in use. In the past I have done this for 3 reasons.
I thought that this rigid material made sense for re-holstering the mag

It was easily available
Soft mag pouches have been traditionally less durable
I am not afraid to admit when I am wrong. Just ask Mrs. Shooter she will tell you I am always wrong and am smart enough to not fight it. I was wrong. Let's look at these items one by one.
I thought that this rigid material made sense for re-holstering the mag
How does this make any sense? I always have a primary magazine in my pistol or rifle. If I am reloading then I am in a firefight and I have no interest in re-holstering my used magazine. I would either toss it aside or drop it in my dump pouch. So maintaining a rigid frame for re-holstering an empty mag makes no sense. If I am putting the pistol in the pouch before going into action then how much time it takes to push the magazine into place is moot as I am in a safe environment.
Ok well so is McDonalds, Burger King and a slew of other crap that is no good for you. With anything in life you often get what you pay for and in this case easily available and what I want when I am in a life and death or competition situation are 2 very different things.
Soft mag pouches have been traditionally less durable
This was the real kicker for me in the past. Spandex sewn to a MOLLE system is garbage. Canvas pouches do not lie flat or hold their shape and offer the worst of both worlds. Only because of the advanced technology used in the Helium Whisper backing and MOLLE system combined with the material they use to make the actual pouch am I finally coming around to changing my mind on this.
When we first reached out to Blue Force Gear I was tentative about the mag pouches. I had heard great things about the belts, chest rigs and slings they made (hell they make slings for Larry Vickers they have to be doing it right) but these mag pouches look like the cheap Chinese air-soft crap you find on ebay. Well get ready for it. I was wrong, very wrong, completely wrong in fact. These mag pouches are incredible. The lay flat and pull up tight when not in use. After just a few loading and unloading they get very easy to manipulate and will fit several types of gear such as trauma dressings or flash bangs in addition to either polymer or steel M4 mags.
Mine held up great being loaded and unloaded, rolled around in the mud and dirt and being tossed on the ground as I collapsed in exhaustion. After the class looking at the gear used we have noticed that while no stitching has come undone the Ten-Speed military grade elastic material used has picked up some permanent bumps from the edges Pmags. There is no actual damage to the material but extended use with Pmags will cause a dent when the material goes back to flat. This does not appear to be an issue with metal GI mags.
I had some of my mags stippled by Lightfighter Innovations (a great move and something I highly recommend more to come on this in another article). The rough texture from the aggressive stipple is something I expected to play havoc with the stretchy material of the Ten-Speed Mag Pouches. It is with much surprise that after putting the mags back in and out of the Ten-Speed Pouches there is no pulling of the material from the stippling. Further due to the tight nature of these pouches I would highly suggest either a stippling or Magpull's to ease the retrieval of the mags. In wet or bloody situations the stippling holds the highest advantage.
In summary the belt was light, comfortable, adjustable to size and mission, it did not become logged with sweat and the material was very breathable. It held up to everything I threw at it and bounced back for more. After the class it cleaned up nicely looking almost new when wiped down. The large area of MOLLE is extremely versatile and adaptable. The material is rugged yet easy to manipulate. It is comfortable to shoot from any position as the belt is designed to fit your body and protect you from clasps and attachment points.
So now that you know why I love the Blue Force Gear SOC -C belt system let me tell you who could be best used by this.
Anyone interested in taking tactical pistol or rifle training

Anyone who goes to the range a lot and does not want to be fiddling with mags
Preppers looking for a modular solution that can be hidden under a large jacket
Hikers who want a pistol mag and other survival gear accessible outside a backpack
Anyone looking to add readily accessible gear to a BOB
To purchase the SOC-C or any of the other great gear from Blue Force check out their new and updated site http://www.blueforcegear.com/
As always Military and Law Enforcement receive a 10% off discount on all orders.