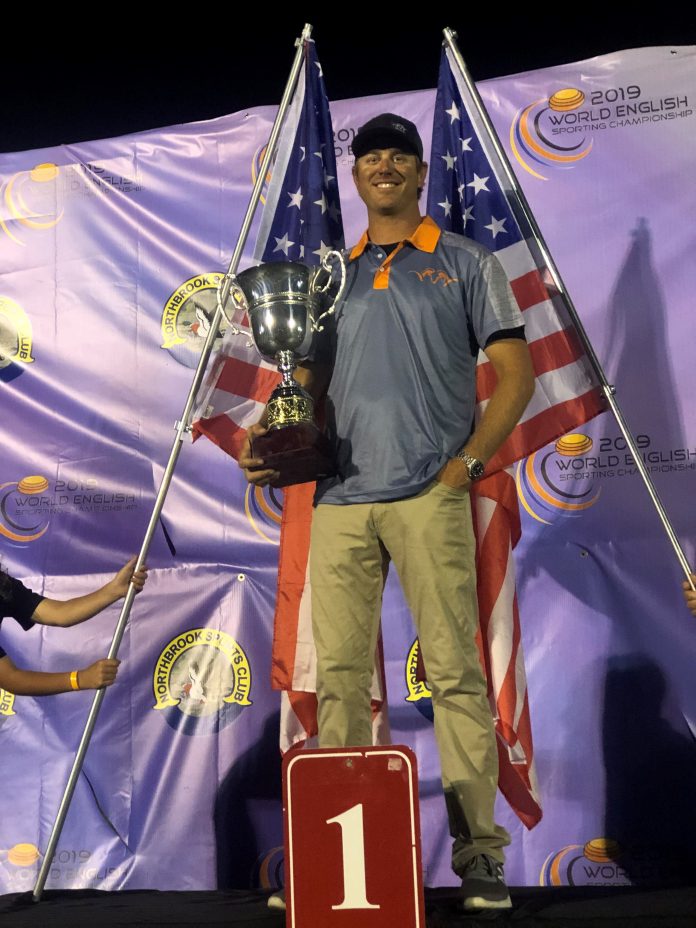 San Antonio, Texas (August 22, 2019) – Blaser-sponsored shooter Cory Kruse from Willis, Texas was crowned champion of the 2019 World English Sporting Championship on Sunday, August 11 at Northbrook Sports Club in Hainesville, Illinois, securing his first World English Sporting title with his Blaser F3 shotgun.
The three-day competition, hosted by the National Sporting Clays Association, saw 880 competitors take to the three courses to shoot 200 English sporting targets, with the top 12 competitors securing a place in the Sunday super final.
Kruse, an oil field service company sales consultant, finished with an impressive leading score of 181ex200 by shooting 61 on the red course, 60 on white and 60 on blue, two targets ahead of his competition. Despite leading scores of 23ex25 in the super final by fellow Americans Joseph Fanizzi and Wendell Cherry, Kruse's score of 21ex25 was enough to hold pole position, finishing with a combined score of 202 to take the world title.
For Team Blaser, it didn't end there. Bill McGuire from Tennessee claimed the World Veteran Champion title shooting a Blaser F3 with a score of 164ex200, four points ahead of the field. Mike Wilgus from Washington scooped the Preliminary Champion and 5-Stand World Champion titles with his Blaser F3 on respective scores of 98ex100 and 96ex100.
Commenting on the win and his new World title, Cory said: "I've been close a few times. I bagged a silver in 2008 but finally tagged a gold! What a cool tournament and I obviously really enjoyed the targets. They were exactly what I enjoy shooting and feel challenged to shoot. I was very entertained and scared at the same time. My gun performed flawlessly. This, my friends, is why Blaser is the best. Great products and they offer the best customer service going."
Mike Wilgus added: "It felt great to win the preliminary event on Thursday with a 98ex100. I even had the pleasure of shooting with my 12-year-old daughter Kayla. Winning the 5-stand World title meant a lot to me, and I'm very pleased with my results. We also came home with USA Team gold, which makes me very proud."
Blaser CEO Jason Evans concluded: "What an incredible week it has been for Blaser shooters at the World English Championships at Northbrook Sports Club. With so many of our shooters claiming the top spots on the world stage, it just goes to show what you can achieve with sheer skill, determination and a shotgun you can rely on. We are incredibly proud of our shooters who continue to amaze us with their talent and incredible sportsmanship. Well done Team Blaser!"
About Blaser USA Inc.
Blaser USA Inc. is the official US importer for iconic German firearms brands Blaser, Mauser and J.P. Sauer, and English gunmaker John Rigby & Co. Established in 2007, the company which is based in San Antonio, Texas works with over 200 authorized Blaser dealers across all North American states, with this figure continually growing. Today Blaser USA's industry-leading product portfolio includes bolt-action, combination rifles and over-and-under shotguns designed specifically for game hunters and competitive target shooters. Its custom shop offers exclusive engravings, design work and custom finishing for bespoke guns. With recent innovations, Blaser has gone on to expand its product portfolio into cutting edge optics and accessory lines. For more information about the company and product lines, visit: www.blaser-usa.com.