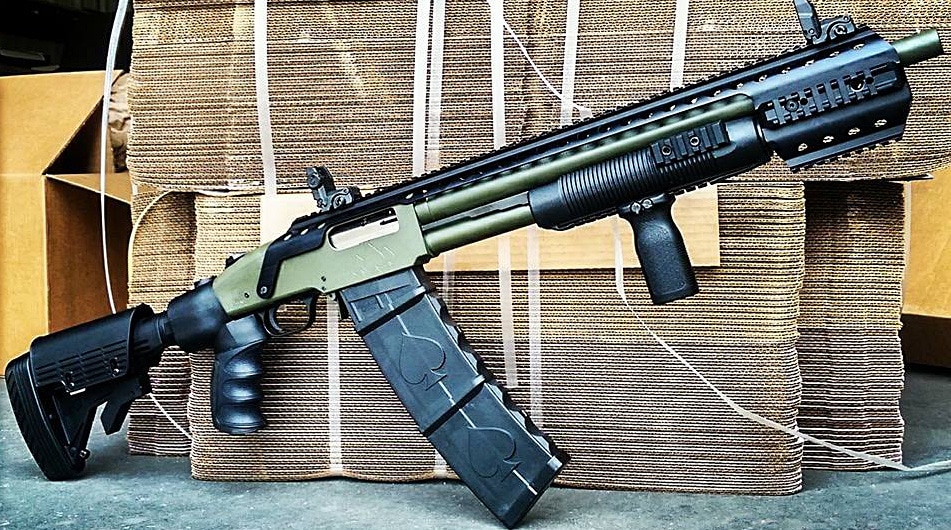 Black Aces Tactical is custom shop that specializes in magazine-fed, pump-action Mossberg 500-pattern shotguns. Serving a niche market, it has suddenly found itself in the spotlight after publishing part of a letter from federal regulators that determined its firearm could not be shouldered without classifying it as a short-barreled shotgun.
People lashed out against Black Aces immediately for one reason and one reason alone. This ruling hinged on the use of a SIG SB 15 arm brace.
Originally designed for AR-15s, SIG's arm brace looks a lot like a stock and thanks to an earlier ruling by the Bureau of Alcohol, Tobacco, Firearms and Explosives can be shouldered even though it's not a stock, free and clear, as long as it's not modified.
Since then the AR pistol market has exploded. People are falling in love with their 10.5-inch AR pistols, finding new, aggressive muzzle devices to tame — or enhance — their fireballs. The rifle-pattern pistol market in general has blossomed with AKs and other firearm patterns being designed as pistols for use with arm braces.
Black Aces didn't expect the ruling it received. It's not exactly in-line with previous pistol brace rulings.
In the letter the ATF said "should an individual utilize the SigTac SB15 pistol stabilizing brace on the submitted sample as a shoulder stock to fire the weapon from the shoulder, this firearm would then be classified as a 'short-barreled shotgun' … because the subject brace has then been made or remade, designed or redesigned from its originally intended purpose."
The reason for this classification may have to do with the length of the sample weapon. Unlike pistols, which have no minimum length requirements, shotguns may be classified as "any other weapons," or under the National Firearms Act.
In fact, the singular reason Black Aces sent its product in for evaluation was to make sure that it wasn't going to mistakenly sell NFA-regulated firearms as unregulated guns. While some people have criticized Black Aces for asking a question no one wanted an answer to in the first place, no firearm manufacturer in the country wants to illegally, if accidentally, sell NFA-regulated guns on the general market.
A Black Aces spokesman told Guns.com that the firearm without the stock was less than 26 inches in length.
It's possible that because the stock brings the overall length of the shotgun over 26 inches, part of what classifies this gun as a generic 'firearm' as opposed to an NFA-regulated AOW, the ATF has determined that the brace, in this case, has been "remade, designed or redesigned from its originally intended purpose."
Whatever the thought process that went into the decision was, it's been made, and one thing's clear: the ATF has ruled that in order to shoulder this specific shotgun it must first be registered as a short-barreled shotgun. That's the core of the ruling and also the most misconstrued part of this letter.
The letter only applies to a single model of Black Aces Tactical firearm. It has nothing to do with the SIG SB 15 brace, AR-15 pistols and the larger world of rifle-pattern pistols and accessories that can be shouldered that aren't stocks.
Because the ruling applies to the gun and not the brace, the world of SB-15-equipped AR pistols is still safe for another day, although we expect more than a few people to take this as a sign that it's time to finally set up that NFA trust.
Source Article from http://www.guns.com/2014/11/20/black-aces-sig-braces-and-the-atf-ruling-gone-wild/