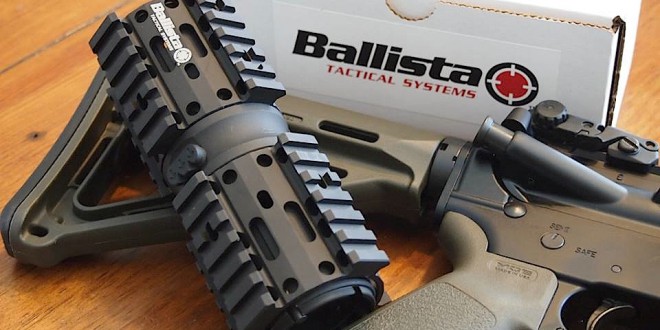 The other day we received a package from Ballista Tactical Systems (BTS). BTS makes an incredibly unique rail system unlike anything I have ever seen. They have developed the Nautilus Rotating Rail (NRR) which is a rotating quad Picatinny rail system.
The NRR allows a user to replace the 7 inch plastic hand guards standard on most carbine and full length AR-15's with a rotating quad rail. What makes the NRR unique is the quad rails are separated into 2 independent groups of rails that independently rotate a full 360 degrees with indexing points at each 45 degree angle.
This rotating system allows you to move gear in and out of line of sight on your system without having to attach or remove items from your rail. While some might see this as a solution to a problem that does not exist, lets examine the possibilities of what this can do for you.
Mount a red dot on the rear-rotating rail and move it out of the way when not in use or if the battery dies.
Mount a RMR on a 45 degree angle to use in CQQ when your primary optic is a 4x scope.
Mount a forward grip on the front rail to allow for a movable grip. This would allow you to run your pistol grip (Vertical Fore Grip)at a 45 degree angle as some teams do, reducing hand fatigue. This would also allow you to rotate based on what type of structure (right door frame, left door frame or concrete barrier) you're using for a braced shot.
Keep backup iron sights on the front rail rotated out of the way when using a scope.
Rotate between a forward grip and a bi-pod.
Switch between thermal, day and night optics when predator hunting. This is also a huge advantage for Border Patrol or Game Wardens. LEO's have to transition between day and night as well as unknowns inside buildings all with a single patrol rifle.
As you can see there is a limitless amount of  configurations that could actually be valuable. On duty pistols where left and right hand users will be sharing a patrol rifle, the NRR could be a large value add.

The Nautical Rotating Rail is made from aircraft grade 6061 T6 5011 hard-anodized aluminum and made entirely here in the USA. It has been extensively tested for strength and reliability here is just a few of the tests it has gone through and passed.
 Metal expansion and shrink test: 550 degrees Fahrenheit and held for 60 minutes. At 60 min mark it was removed and placed in a liquid nitrogen environment and brought down to 75 degrees below zero in Fahrenheit and held for 60 minutes.
The temperature test did not affect the rails ability to function as intended.
Corrosion test: Product was submerged in natural seawater from the Gulf of Mexico for a period of 90 days.
The seawater did not cause corrosion or affect its ability to function as intended.
Weight bearing test: 12,500 pounds was unevenly forced down on the product in several areas.
The weight-bearing test did not affect its ability to function as intended and measured within the manufacturers specifications.
Drop Test: Product was dropped in its natural state from a height of 30 feet on to a paved asphalt roadway 5 times.
The drop test did not affect its ability to function as intended.
Dirt, Sand, & Mud Rotation test: Product was buried in dirt, sand, and mud performed in the natural environment of the Florida Everglades.
The dirt, sand, and mud test did not affect its ability to function as intended. It was able to rotate with slightly more force and did not cause any permanent damage to the bearings, bearing races, or its ability to perform as intended.
There is always a draw back to new technology. While minor these are the items we found that could be an issue to some users.
Since the product is so well made and durable it stands to reason it is also heavy.  While it was not as heavy as I expected at only 17 ounces it adds the weight comparable with a heavy quad rail.
The ball bearings do a fantastic job of holding the rails in place but they do make some noise as you move around with the gun. This is not an issue for most people but may be with elite units or LEO's.
The NRR is not a clamshell like most drop in grips so will require you to remove your gas block and front sight to install it.
Other then those issues we found during our testing this is a really well made product.  This is just the highlights of what we really liked about it.
The locking really works well and creates a very firm and steady hold point. There is no noticeable wiggle or jiggle of the sections when locked in place.
The release buttons are easy to find and press even when shooting prone.
The 360 rotations and 45 degree locking intervals give you tons of options and allow you to not have to buy expensive 45 degree mounts.
The rail is well built holding up to drops and basic use without an issue.
This is the most versatile ways to pack gear onto a gun without having to reconfigure.
Allows for a true return to zero on sights and lasers.
The NRR is the type of gear that can be the gateway to an overloading of gear on your rifle. However if you are smart about what you put on your gun and limit the add-ons to only items that you are likely to use you will find the Nautilus Rotating Rail is the easiest way to fit your gun to perform in multiple types of encounters.
The retail price on this rail is listed at 439.00 with a lifetime guarantee. For a limited time they are selling these for the price of 199.00 with a risk free 30 day money back guarantee to try it for yourself.
Check out the full website to learn more and order yours.
Web: http://www.ballistatactical.com/
Facebook: https://www.facebook.com/BallistaTacticalSystems
Ballista Tactical System Nautilus Rotating Rail 7″