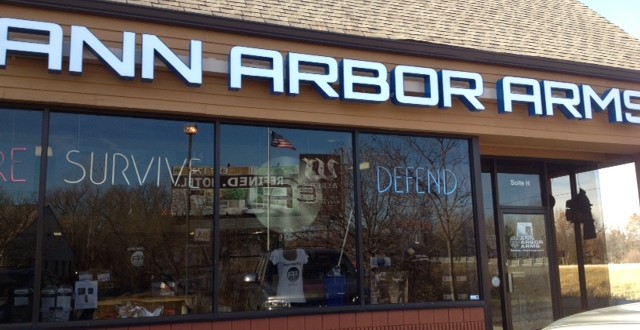 Have you ever wondered what FAO Swartz looks like for the gun aficionado? Sure stores like Gander and Dick's sell guns but let's face it, the service and knowledge at places like that leave much to be desired. Not to mention the low to mid tier products don't tickle the senses the way a rack full of Wilson Combat or LWRC does.
Recently we had a chance to head out to Ann Arbor and visit a gun store that we have heard a lot of chatter about. Ann Arbor Arms is rocking the boat of the status quo, in Ann Arbor and the gun store world.
First they are located in the heart of liberal Wolverine country. Defying those who said a gun store would never happen in such a PETA loving, Birkenstock-wearing, granola-eating city.
This isn't your typical gun store either. A3 (Ann Arbor Arms) spreads its floor space across a few specific types of products.
Mid to Top Tier Firearms and Accessories
Prepping Supplies
EDC (Every Day Carry) Knives, Bags, etc..
Military LEO Support
What makes A3 different?
When I walked in the first thing, I noticed was how happy this place was. The lights were bright; there was big front windows, the store was busy enough to have a hum, but not packed to the point you feel uncomfortable.
As soon as I made my second step inside the door I was immediately greeted by a warm and heartfelt smile and a hearty Welcome to Ann Arbor Arms, as was the guy behind me and the guy behind him. When I walked to the counter, the sales rep shook my hand and asked me how he could help me. Not what did I need not what can he sell me today but how can he help me.
Speaking to the owners Bill and Holli the reason for these drastic differences becomes immediately apparent. "We didn't want to be like everyone else," says Bill. "We wanted to create an environment that is designed around a clean and enjoyable experience for the consumer". Bill goes on to explain how treating his staff right is a big part of making sure the customers are happy.
Bill and Holli both spent much of the interview I did with them discussing the staff. The people that make up the A3 team are an interesting mix of Law Enforcement, Military and Retail experienced individuals. Holli explains how making sure that the people who help people decide on the proper gear need to have real first-hand knowledge of the gear. This is why A3 supports regular shoots for team members as well as encouraging them to take continued training.
No surprise that when I was in the shop I saw a few of the who's who of the Michigan training community hanging around.
Michigan Made and Proud
One of the reasons we first reached out to A3 is that fact that we have heard from several of the Michigan-based manufacturers that A3 was the first place to give them shelf space.
Ok, so Trijicon and Eotech would have shelf space in any store, but its great to see these guys moved front and center. Many of these other high-quality companies however would not be found at many local shops even though they are Michigan made. This attention to local products is something we respect as it is inline with our core values here on 248Shooter.
The Big, Little Store Mentality
When I was younger I worked at a local hardware store around the same time Home Depot and Lowes moved in to crush small retailers. What helped our store hold it's own was the little shop mentality. The customer is always right, carry the products people need even if there's no profit in them and make sure to offer advice with every purchase.
One place that we excelled at was in selling of niche screws, nuts and bolts which big box stores didn't see the margin in. I have helped a customer for 20 minutes on a 10 cent screw. We didn't make money on that, but that person always came back to us.
A3 reminds me of this old school little store mentality. After having to call around to 5 stores in my area nobody, carried a detent pin and spring for the takedown pin on my AR-15 build. Some of the stores didn't have any parts at all, some offered a full LPK only. However, when you just shot the one spring and detent across the room by accident the last thing you want to do is buy an entire LPK. Never fear A3 stocks all the parts, springs and bits for the most common weapons right in the store and has a staff smart enough to help you find the parts you need.
They do it in a way though that also offer the advantages of a larger store. They carry far more high-end rifles then you will see in the average shop and offer a wide selection of items, not just the bread and butter stock you see in so many places.
What the future holds
What A3 is doing now is fantastic. So fantastic that they are outgrowing the space they have. The future for this boundary-pushing companies lies in their new facility that just recently broke ground. This new state of the art retail space is combined with your typical multi-lane 24 lane shooting range. 2 ends with 8 lanes each and on the other end is a tactical range that can be converted to house another 8 lanes. Now let that sink in for a minute. Finally, SE Michigan will have an indoor training facility that will allow you to actually move and shoot. No more one round in the chamber don't draw from a holster, don't move, don't fire more than 1 shot per 3 seconds. Finally, a range that will support proper training instead of reinforcing bad behaviors developed at standard ranges. I am very excited to see this completed in late spring of 2015.
Final Thoughts
With a focus on Michigan products supplied by a knowledgeable, friendly staff, A3 has become my primary gun store destination. It is a bit of a drive from me but to me supporting merchants that are doing things right are worth it. The fact that they offer Class 3 products like SBR's, and Suppressors is a bonus as well. We here at 248Shooter do not get behind a specific store lightly, and I can assure you this is a place we are comfortable spending money at.