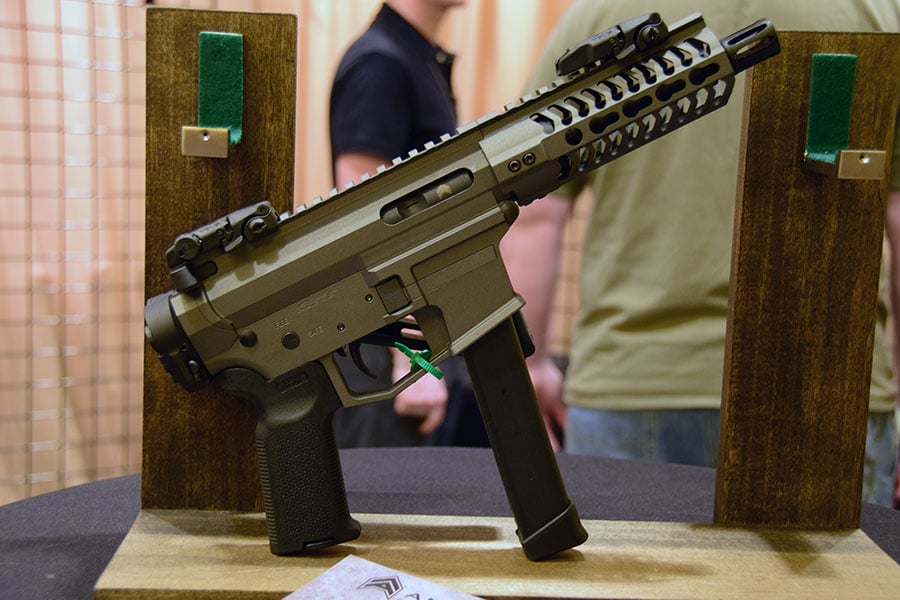 9mm AR15 carbines and rifles are nothing new. Colt started the trend back in 1982 with their select-fire 9mm SMG, sporting a ten-inch barrel. New Charlotte-based gun-maker Angstadt Arms distinguishes their new UDP-9 by including many of the most desirable AR15 features in a 9mm platform.
The UDP-9 is assembled from a slick-side upper and custom billet lower receiver that includes a flared magwell, over-sized trigger guard and scalloped ejection port. Available in black and bronze, the UDP-9 is a semi-automatic, direct-impingement 9mm pistol feeding from 9mm Glock magazines.
Initially available as a pistol, Angstadt Arms intends to eventually offer their new AR-15 pistol as an SBR. Impatient buyers can purchase a pistol and after obtaining the proper stamp, convert it to an SBR.  The whole setup is a scant 21 inches long and weighs under five pounds.
Other notable features include a chrome moly barrel with a black phosphate finish, an ODIN Works free-floated keymod handguard and last round hold open.
The UDP-9 will be available April, 2015 with a projected MSRP of $1249.
Check out our coverage of SHOT and stay tuned for more throughout the week.
Source Article from http://www.guns.com/2015/01/24/angstadt-arms-unveils-9mm-glock-mag-folding-ar15/