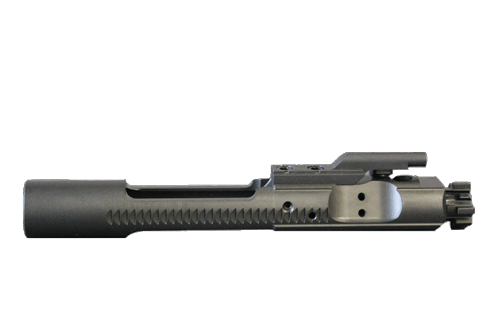 Coatings are all the rage the last few years:
Cerakote
Duracoat
Hydro Dip
Nickel Boron
TiN or Titanium nitride
Blued and all the variations of it
All of these coatings have one thing in common. They are applied on top of the material. They are a coating that is above the metal product and can be worn away. That is until Anderson Rifles created the RF85 Treatment. It is a treatment and not a coating because it doesn't coat the metal, it actually bonds to the structure of the metallic molecules and creates a bond deep into the material.  This treatment can not be worn or scratched off. As the material it is bonded with wears the treatment is not rubbed off.
You cannot feel or see the treatment as it is a clear product. It is not greasy or slippery like lubed up product or TiN coating. However it is a friction reducing treatment that is proven in lab tests to reduce friction on steel surfaces by 85% hence the Reduced Friction 85 or RF85 name.
Anderson Manufacturing the parent company of Anderson Riffles is the proprietary owner of this technology and has used it to create what they market as the first truly lubeless rifle.
Claims of making a AR-15 lubeless rifle are nothing new. In fact some historians may know the first ar-15 rifles were sent to our military men without cleaning kits. Now Anderson does not claim to make a rifle that never needs to be cleaned. They only claim that once cleaned the rifle does not need any wet lubrication to function.
I am no scientist, so anything reported here by me is being done so based on my perception and is not backed up by any scientific facts it is only my observations. However since I know some of you love this kind of stuff I have added 2 links that will allow you to geek out on the science used here to your hearts content.
Complete Finding
Summarised Results
So with that out of the way let me tell you what I saw when I tested out the bolt carrier sent over by Anderson Rifles. Nothing special! It looked and felt no different than any other bolt carrier I own. I even had to call my contact at the company to be sure that the firing pin was treated. It looked and felt so similar to the standard bolt carrier parts that I thought this was a joke and this review was bound to be an epic fail.
However when the proverbial rubber hit the road there was a difference. For the first time in my life I dropped a  bolt carrier in my AR-15 and ran it dry. I did this with my least favorite AR as I was afraid of excessive heat and wear on my upper. Neither happened. The gun functions as well if not better than my standard lubed up bolt carrier. How much faster or better did it cycle? I have no idea, I already told you all I am no scientist. However the guys over at Oak Ridge National Laboratories are and this is what they found:
The untreated rifle took 23% longer to cycle than the RF85 treated rifle during testing. Oil attracts dirt, sand, grit and other harmful particles. By using the RF85 treatment not only will the gun operate almost a quarter percent faster but will also last longer due to less drag and wear and accumulation of harmful elements is greatly reduced.
So according to guys with really expensive degrees and cool white lab coats a RF85 bolt carrier and treated upper can cycle 23% faster.  We only tested with a bolt carrier so we did not see this much of a difference. It was smooth though and no issues even when testing a bunch of crap wolf steel cased ammo, that I had laying around.
The real noticeable difference is in cleaning the parts. I am super OCD about my guns. If I go to the range then I am in my office cleaning them that night or the next day. Even when shooting a low round count cleaning is done. Like shooting, the time spent working to get the guns clean, assembling and disassembling gives me joy and peace. Anderson Rifles has ruined this. How you ask? Simple they made it too fast and simple to clean parts treated with RF85. Check out this video.
I have been told you can actually throw the assembly in the dishwasher and it will do the work for you. This has not been tried here because Mrs. Shooter would shoot your truly if I did it. We did however clean the carrier group with nothing but dish soap and water after shooting 400 rounds of steel cased Wolf ammo through in just a few minutes. Wear gloves like the guy in the video, everything came right off on my hands and had me wishing I had used the gloves. The parts did come very clean, extremely fast with no additional solvents. When I was done we popped it all back together and took it to the range again with no lube.
Since the initial cleaning test we have run another 400 rounds through the gun. We have cleaned the barrel only and left everything else as is. Our goal is to do a follow up review at 1K rounds of wolf through the gun without cleaning to see how well this stands the test. Speaking to my guy at Anderson a certain agency has tested the gun with over 60K rounds without lube and limited to no cleaning. My budget is not funded by taxpayers, so we can't afford to test that but we will do our best.
The RF85 treatment is available on all the parts Anderson Rifles makes. We only tested the bolt carrier group but if you paired this with a upper, lower and barrel by them  you would have one of the easiest rifles to maintain. I am so sold on this product that my goal of buying a Spikes lower and upper has been replaced by a desire to own an all RF85 coated AR-15.
A Bit about Anderson Manufacturing
Normally we try to get into a bit about the company before we discuss the product. This RF85 treatment is what interested me in Anderson Manufacturing and as such has become the focus of the article.
The fact the company is run by a man with the same name as me was only something I learned later. There is no relation between us however ,or I would hopefully have had a safe full of rifles by now. All that aside this is the type of company I love writing a review on. The story behind this company is about as American as you can get.
Clarence Vernon Anderson and his father, William C. Anderson, started what is now Anderson Manufacturing in 1965. Anyone who knew Vernon, as he liked to be called, knew that he was a hard worker. After thirty-six years of faithful service at General Electric, he retired and began machining with his father in the old chicken barn behind his house. His hard work and determination was foundational to the company's success, and he could be found busy in his office up until his death in February 2002.
The hard-working tradition didn't stop with Vernon, though. In 1980, while Vernon was still living, his oldest son Carl came to work at "the old shop," as it is respectfully called by the family. When Carl started, there were only three employees and they were still working in the old white chicken barn with rattling glass panes.
However, it wasn't very long until the business outgrew the chicken barn into a newer, larger location near the Northern Kentucky/Cincinnati International Airport. By 1987, Carl and the now seven other employees upgraded to a 10,000 sq. ft. building off of Limaburg Road, with expectations of a successful future.
It was only two years later when Charles, Vernon's youngest son, joined the team in 1990. With business booming and the need for more employees to process the amount of work coming in, Anderson Manufacturing upgraded once more in 1993. A second building was added, making the work space a total of 20,000 sq. ft.
Today, as co-owners and vice presidents, Carl and Charles have seen the company grow into something that exceeded even their expectations. With a third building added in 1996, and a total of 30,000 sq. ft. at their disposal, Carl and Charles and the rest of the forty-five employees at Anderson Manufacturing continue to be busy at work. A job shop, Anderson Manufacturing can do anything from CNC (Computerized Numerical Controls) turning, milling and welding, to laser work and powder coating. They are highly involved in OEM (Original Equipment Manufacturing) for the banking industry, and for parts in small gear motors. Also, they take part in the cutting edge of machining, and have in recent years been ISO 9001:2000 certified.
In 2008, Anderson Manufacturing obtained a Federal Firearms License and began manufacturing rifles and well as other portions of the gun, such as gas blocks, hard guards, charging handles and more. When asked why manufacture rifles," Carl said, "The opportunity presented itself."
Anderson Manufacturing has come very far from its roots in that old barn that still stands. Carl and Charles, whose honesty and equal treatment have fostered faithful employees, still have some of the original men who started out working for them in "the old shop".  Their father's hard work and their own dedication have made Anderson Manufacturing a success.
The AR-15 is often called America's rifle. The fact it has been used in so many conflicts and wars by Americans is a part of it. The fact that so many great American stories are behind the companies that make it is another. These are the type of people who through hard work built something for themselves, their families and the people in their community. When cheap overseas labor was an option they stayed with an American workforce that made the best products possible. This company is the type of company that demonstrates the best in American ingenuity and manufacturing. I am proud to own my Anderson bolt carrier and will be proud to own an Anderson Rifle in the near future.