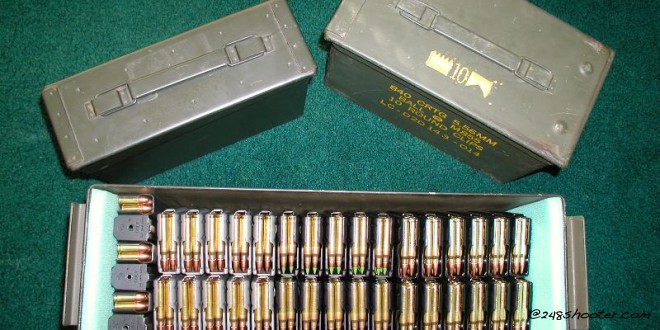 With the craze for ammunition finally starting to wind down a bit people are evaluating their ammunition supply. Some of us were caught ill prepared for the ammunition shortage of 2013 and were left with the tough decision of not shooting or paying very high prices for ammunition. Others like myself had plenty of ammunition stored up but due due the fear of replacing it or the concern of the cost of replacing either sat on it or shot less.
Regardless of what camp you fall into chances are you are looking to acquire some ammunition to either replace what you shot or to stock up moving forward. Unfortunately long delays in manufacturing and inflated prices are still making that tough. Speaking to contacts I have in both the wholesale and manufacturing side of the ammunition supply rumor has it that there will be at least 18 months before supply and demand level off.
Those of us who have had economics training know this does not mean that there will be no ammo for 18 months and it does not mean we will be paying out the nose that long. It equates to a slow an gradual return to either a new pricing norm that should level off in 18 months. However do not expect to see prices at the points they had been in early 2012.
With this new economic norm comes choices we all must face as shooters.
Should I start to reload?
Do I buy trusted reloads?
Is steel cased ammo an option for me?
How much ammo do I need to store?
What am I prepared to spend on ammunition
These choices are not easy ones to make and the choices you make may have a huge impact on your future depending on your beliefs in what is to come. Here are some general rules to help you decide how much ammunition to store.
Determine how often you go shooting and how many rounds you shoot each trip. then make sure you have at least 1 years worth of ammo supply. If you want to be cautious then try to go for 18 months to 2 years.
ex. I try to go at least once per month and I try to shoot:
200 rounds through my 9
50 through my 45
100-200 through my .40
100-200 through my AR
So for a minimum I should have
2400 rounds of 9mm
600 rounds of 45
1800 rounds of .40
1800 rounds of 223/556
After evaluating this and some recent changes I have been making to my EDC the goal is to remove the .40 from my EDC and move to a 9mm. This will save me storage space as well as reduce the amount spent on ammo. I can also spend more time on practicing with my 9mm and 223/556 as those are my goto weapons. This would make me want to change my minimums as follows.
3000 rounds of 9mm
600 rounds of 45
2500 rounds of 223/556
As you can see that is still a substantial amount of ammo to have to purchase and store. Storing for me is very easy as I have a large safe with proper humidity control that sealed ammo cans can go into. In this storage the ammo will last far longer then I will be keeping it around. Even if you do not have access to a safe large enough to store your ammo, properly lubed ammo boxes with silica packets in a dry place will keep your ammo dry and in working order much longer then you will need.
So now becomes the big issue how do you purchase this ammo. For me the only way I can afford to shoot this much is to combine the best deals on the internet for production ammo, with quality reload suppliers and reload myself.
If you are looking for deals on factory ammunition you can check this site out. http://www.gunbot.net/ They poll many of the online retailers to find the current prices. Even if you do not buy from those retailers this list serves as a good benchmark for going rates. Every once in awhile I will find a good deal that is worth me purchasing 500-1000 rounds for the locker.
The better method in my opinion is to set up a relationship close to home with a quality reloader or manufacturer. One company we have begun to do business with is Detroit Bullet Works which specializes in remanufactured ammo. This is quality brass well cleaned with new components produced on top of the line automated systems. This is not ammunition being done in the basement by some guy reading his first ammunition reloading guide. Ammo is sold in 50, 500 and 1000 round blocks with a maximum order size of 2000 rounds due to the backlog. Detroit Bullet Works has not raised its prices since the ammo shortage and is currently running a 9week backlog on orders.
What I do is put in my order each time I get a new delivery. This way I always have ammo on order at a locked in price and I should not run out before the next order is being filled. for those of us who want to limit the cost of ammo and are only using it for practice this is a great solution to loading your own. Further if you return spent brass to Chris at Detroit Bullet Works he will discount your order. For those of us who do not have the time or space to reload this is a win win. It keeps cost down and keep the supply of brass in motion.
The last option  is for you to reload. Reloading can be relaxing and a past time for those that do it. Be mindful though that it requires a bench to work at as well as storage space for the machinery and components involved. Further there is the concern of being confident in what you are doing. I would not recommend you go buy a Lee kit at Gander mountain then get a book and start loading ammunition.
If you are serious about reloading then check outthey have some quality products to get you started as well as components. You also may want to consider taking an actual reloading class. Detroit Bullet Works teaches several of these a year and they are worth your time.
Regardless of how you get your ammo or ho much ammo you decide you need to store it is important to map out a strategy that works for you. Take the time to prepare now and take advantage of special deals or discounts so you don't find yourself stuck in the future.
For more articles like this be sure to check us out on Facebook, Pinterest, Twitter, Google+ and bookmark our site. If you have questions ro comments leave a note below or fill out the contact us form.