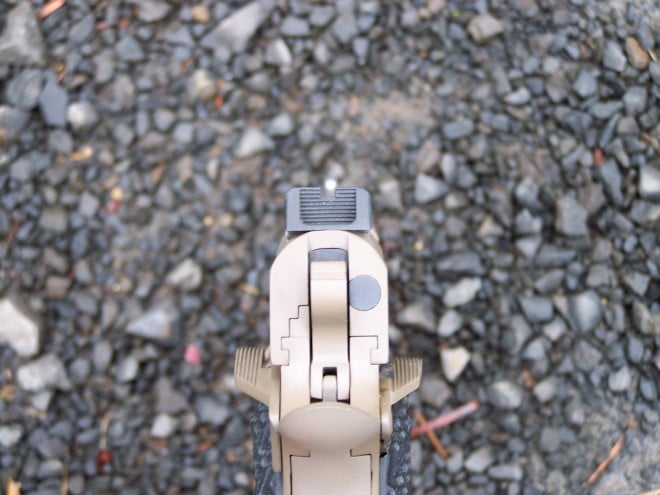 By Pat Cascio
Most people don't realize that the 1911s made in the Philippines are the highest selling 1911s in the world. There are several gun manufactures in the Philippines that produce various makes and models of the grand ol' 1911, and if you take the combined sales of these companies, and compare it to the combined sales of all the USA gun companies producing and selling 1911s, the Philippine-made 1911s out sell the USA made 1911s by a huge margin.
My local gun shop tries to keep Philippine-made 1911s in-stock whenever possible. But because they're such a hot-seller, they just can't seem to keep them on the shelves. They tell me they have never had a customer come back and complain about any problems with any Philippine-made 1911 they've sold over the years — that says a lot in my book.
I recently picked-up an ATI American Tactical Imports 1911 that's a distributor special — the distributor is TALO, and they always seem to be coming out with special firearms, that are a cut above the usual out-of-the-box handguns. The 1911 I picked-up is a "Commander-sized" handgun, in that it has a 4.25″ barrel instead of the 5″ barrel. Additionally, the barrel actually extends past the 4.25″ mark, and is threaded to accept a suppressor. Now, I have no intentions of jumping through the FedGov red tape to obtain a suppressor, but one can put on a phony one if they want — just for the look!
My ATI "Commander" also has a Picatinny-type rail on the dust cover, for attaching lights or lasers; the rail is actually machined into the frame — not screwed on, as an after-thought. What really set this 1911 off and caught my eye was that the gun is coated in a Cerokote dark earth or desert tan coating. This is a very tough and hard coating that is fast catching on for handguns. Even the textured plastic grips were desert tan in color.
We also have all the bells and whistles one might want on this ATI 1911. There is a nice medium length trigger that broke cleanly at 4 1/2 lbs, and there is an ambi thumb safety, that snicked on and off with authority — not mushy at all. There is a beaver-tail grip safety, a flat serrated mainspring housing, and a combat-type ring hammer.
The sights are Novak-style, and the dove-tail cut in the slide will accept Novak-cut sights, too. The sights are actually taller than normal, so that in the event you actually put a suppressor on the end of the barrel, you can still see and use the sights. Some guns that have a threaded barrel installed have the standard sights and they aren't tall enough to see over the suppressor. The front sight has a white dot, and the rear sight is left in the black, but the rear of the sight is serrated to cut down on glare.
The ejection port is lowered and flared, and the barrel is throated and polished, as is the feed ramp. This gun has fed and functioned with a wide assortment of .45ACP ammo – from SWC to JHP and FMJ configured bullets. The gun comes with only one 8-round magazine, but any full-sized 1911 mags will work in this gun, and I tried half a dozen different types and makes of magazines and they all worked perfectly — even some cheap no-name mags worked fine.
Testing and use
I tested the gun with Black Hills Ammunition's 230-gr FMJ fodder, and their superb 200-gr SWC loads. I also used Buffalo Bore Ammunition's standard pressure, low-recoil 160-gr Barnes all-copper hollow point, TAC-XP and 185-gr FMJ FN rounds — both pussy cats in this pistol. Then I added to the mix Buffalo Bore's 230-gr FMJ FN +P, 200-gr JHP +P, 160-gr Barnes all-copper hollow point TAC-XP +P and their 185-gr Barnes all-copper hollow point TAC-XP +P. So I had a good sampling of .45ACP ammo to run through this ATI 1911.
I'll say right up front, hands down, this is the most consistently accurate 1911 handgun I've shot in the last 10-12 years — maybe even longer. And, to be sure, I've owned some pretty expensive and well-known 1911s that cost a lot more than this ATI 1911 cost me. This gun didn't show a lot of preference for one load over another and that surprised me. With most firearms, you will find one or two loads that shoot extremely tight groups, and other loads will shoot acceptable groups.
All accuracy testing was done at 25-yards, resting the gun over a rolled-up sleeping bag for a rest on the hood of my SUV. If I did my fair share, I could keep all the rounds in a 2 1/2 – 3 inch group – some slightly smaller, but none over the 3-inch grouping. I wish I could honestly declare a winner with all the loads I tested, but I couldn't.
I will say though, that the Buffalo Bore low recoil stand pressure loads were a pure joy to shoot — very fast follow-up shots. And, the 200-gr SWC Black Hills load never fails to give me some of the tightest groups I can shoot. The Plus P loads really weren't that bad in this gun, seeing as how it is an all-steel gun, and I think it could take a pretty steady diet of Plus P loads, too. In all my shooting, I fired more than 300 rounds. I shouldn't have, given that the ammo drought is still on-going and ammo is hard to come by, but the gun was a lot of fun to shoot, and the accuracy just amazed me.
Via: All Outdoor
Category: Shooting