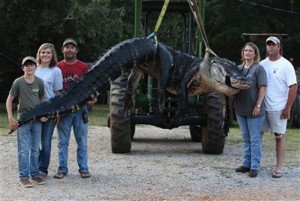 The Stokes and Jenkins family proudly stand beside their record-setting gator.
An Alabama family of gator hunters broke a state record after reeling in a 1,011.5-pound alligator Saturday.
Mandy and John Stokes, along with brother-in-law Kevin Jenkins and his two teenage children, Savannah, 16, and Parker, 14, fought with the massive gator for over five hours before ultimately shooting it in the head with a shotgun, the Associated Press reports.
The family stuck the 15-foot gator with several hooks and tried shooting it in the "sweet spot," just behind the eyes, but the beast was too far beneath the water's surface.
"All it did was make this gator mad," Mandy Stokes said. "Fear had taken hold at this point."
But the family continued their hunt and when the opportunity presented itself, Mandy Stokes fired the fatal shot.
"When I pulled the trigger this time, water just exploded on all of us," Mandy Stokes said.
The 15-foot, 1,011.5-pound gator is now the largest ever caught in the state of Alabama. The previous record was held by a gator just over 14 feet long and weighing in at 838 pounds.
"We give all the glory to God," John Stokes said. "Ten men couldn't have done what we did."
The gator weighed in at over 1,000 pounds and measured 15 feet long.
Mandy Stokes managed to kill the massive beast after shooting it in the head with a shotgun.
The families had to use multiple hooks to control the gator.
[ Associated Press ]
The post Alabama hunters break state record with 1,000-pound gator (4 PICS) appeared first on Guns.com.
Via:: Alabama hunters break state record with 1,000-pound gator (4 PICS)