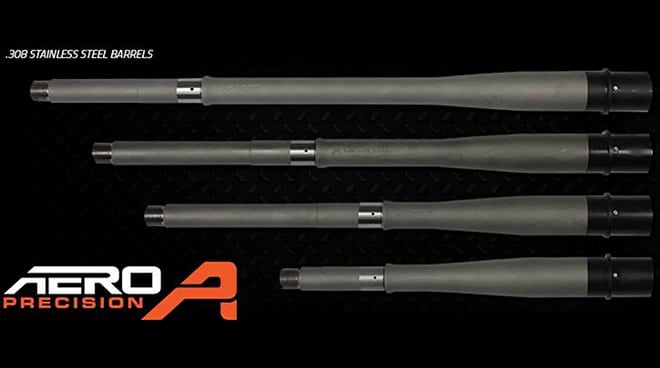 By Max Slowik
Aero Precision now carries a nearly-complete line of 7.62 NATO/.308 Winchester parts for AR-style rifles including upper and lower receivers, parts kits and barrels in a wide variety of lengths and configurations.
The company's increasing dedication to the platform shows that Aero has no plans to slow down in the big-bore AR market and if anything, may foreshadow a future where Aero Precision is a go-to name in the field.
Right now its offerings are competitive and fit the home builder looking for a straightforward .308 rifle with solid, well-built parts at the right price.
A matched set of stripped receivers. (Photo: Aero)
Aero started offering stripped upper and lower receivers a few weeks back and is adding new stripped and complete variants in black and now flat dark earth with a Cerakote finish. The receivers are machined from 7075-T6 alloy aluminum with a MIL-SPEC anodized finish standard.
Called the M5 series, the receivers are compatible with DPMS-pattern components, and Aero makes plenty, starting with some of the most critical, barrels and bolt carrier groups.
Aero offers two types of bolt carrier groups, both complete, one with and the other without forward assist cutouts. The carriers are machined from 8620 steel and the bolts 9310 steel and assembled with an S7 tool steel extractor.
The bolt carrier groups are finished with a MIL-SPEC phosphate treatment and of course, have properly-staked gas keys. They're chrome-line and magnetic particle inspected and made to last.
Completing the core parts is a full spread of barrels. Aero makes 4150 chromealloy vanadium steel barrels with a QPQ nitrided finish as well as 416 stainless steel barrels with a matte bead-blasted finish.
The lower parts kit.
(Photo: Aero)
While nitrided barrels are rapidly gaining popularity as having the accuracy of an unfinished barrel with the durability of a chrome-lined barrel, Aero is appealing to both camps with their barrel selection.
The barrels have carbine, mid-length and rifle-length gas systems depending on their length. Aero manufactures 7.62 NATO/.308 Winchester barrels in 10.5-, 14.5-, 16-, 18- and 20-inch lengths for just about any type of build.
Rounding things out Aero also offers parts kits and buffer assemblies, leaving the final parts selection, stocks and handguards, up to the user.
With receivers starting around $150, bolt carrier groups $125 and barrels around $300 these .308 parts are some of the most approachable on the market today, and backed by Aero's top-flight reputation, makes them even more appealing. If you're building a 7.62/.308 AR from the ground up, then you need to swing by the Aero Precision website.
The post Aero Precision now carrying a full spread of .308 AR parts appeared first on Guns.com.
Via:: Aero Precision now carrying a full spread of .308 AR parts