By Mike Dickerson
---
The new lineup of AR-platform rifles from Savage Arms, a firm known for turning out superbly accurate bolt-action rifles, includes a heavy-hitting AR-10 model optimized for hunting. We put it to the test against Texas hogs.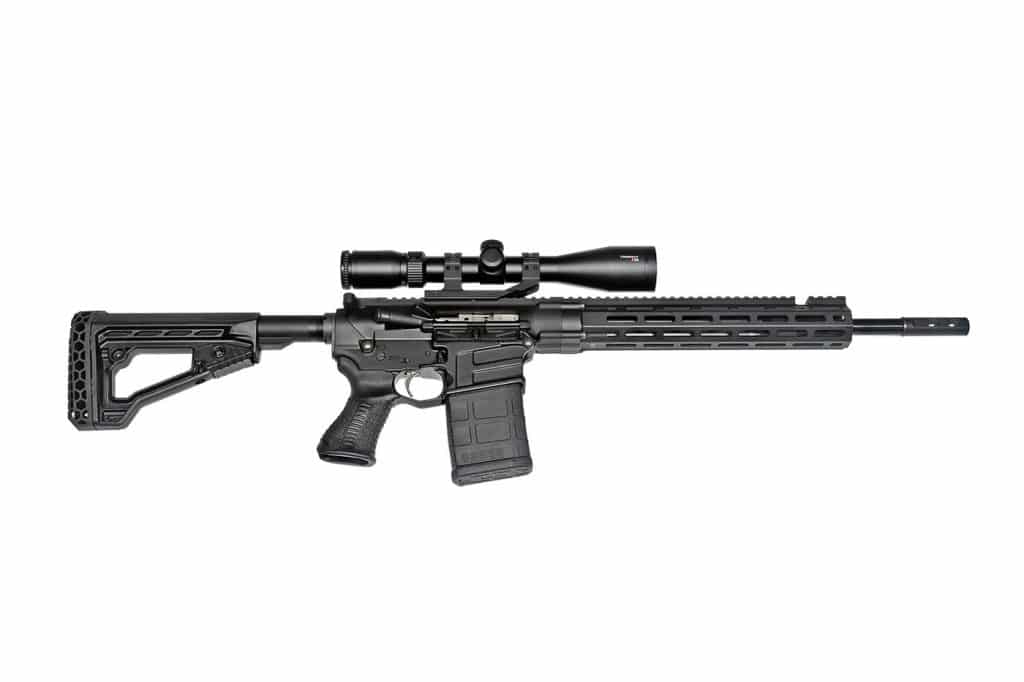 The February weather had turned unseasonably warm, even by south Texas standards, and the pigs were not moving at all. I had seen plenty of wildlife during two days of hunting, including whitetail deer and Rio Grande turkeys, but if there were any hogs on the ranch, you couldn't prove it by me. They refused to leave the shelter of thick cover during the daylight hours.
I grew a little more optimistic at the end of the second day. The temperature dropped a few degrees, and I saw deer and turkeys everywhere while driving out to spend an afternoon on a stand. For first couple of hours, not much happened. I was admittedly somewhat bored, tracking deer through a Bushnell Trophy Xtreme X30 scope attached to a new Savage Arms MSR 10 Hunter rifle, when a small group of hogs suddenly walked into my scope view.
"Well, that's convenient," I thought, and promptly slid the scope crosshairs over, flipped off the safety and shot the largest hog through the heart. The pig dropped in his tracks 120 yards away. The new rifle, launching a 150-gr. .308 Win. Federal Fusion MSR round, had done its job well.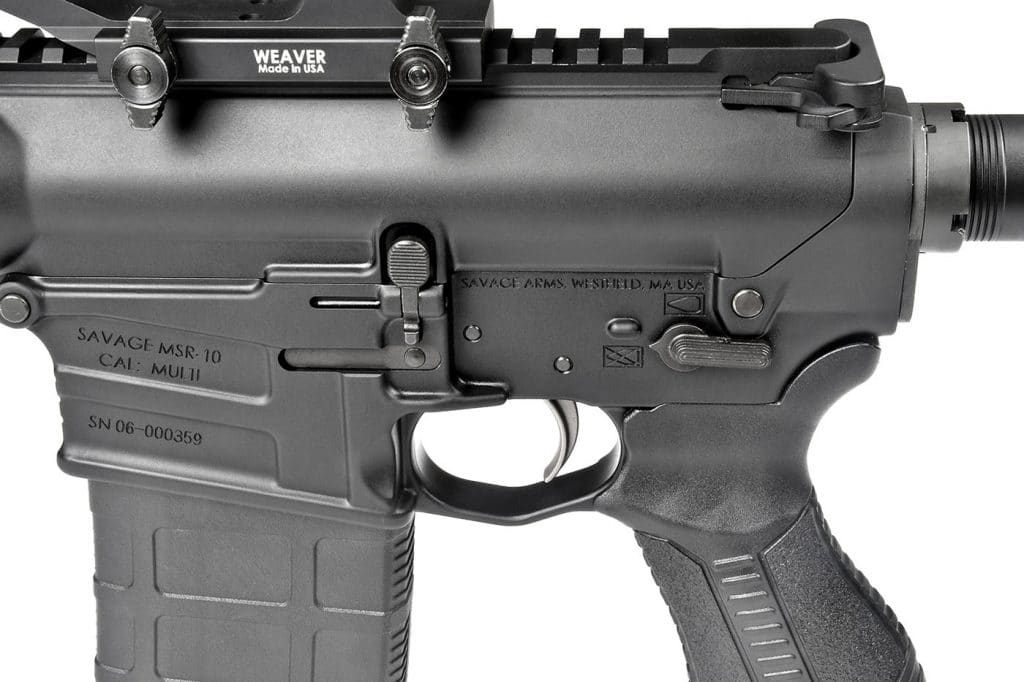 At the beginning of 2017, Savage joined the ranks of traditional bolt-gun manufacturers who have added AR-platform rifles to their lineup, but the company has been making AR barrels for other manufacturers for quite some time now. That expertise is evident in the new offerings.
The MSR 10 Hunter, one of four new AR-platform rifles from Savage, co-opts the MSR ("modern sporting rifle") acronym to mean "Modern Savage Rifle." Chambered in 6.5 Creedmoor and .308 Win., the Hunter is well-named. It weighs just 7.8 pounds in the .308-chambered rifle sent to me for testing. That's far less than many AR-10 platforms—and light enough for the rifle to earn serious consideration as an everyday hunting rifle.
That's partly thanks to the rifle's custom-forged 7075-T6 upper and lower receivers, which help reduce the rifle's weight and give it a bit of a unique look in a package that's compact and quite handy. Overall length of the .308-chambered rifle is less than 39 inches with the carbine stock fully extended. It collapses down to a very trim length of 35.5 inches. The rifle sports a 16-1/8-inch fluted barrel, made of 4140 steel, with a 1:10 rate of twist. Rifling is of the increasingly popular 5R design, which I've found to be easier to clean and somewhat less prone to fouling. The barrel is protected with a Melonite QPQ finish, a type of nitrocarburizing case hardening that increases corrosion resistance. Receivers are matte black hardcoat anodized.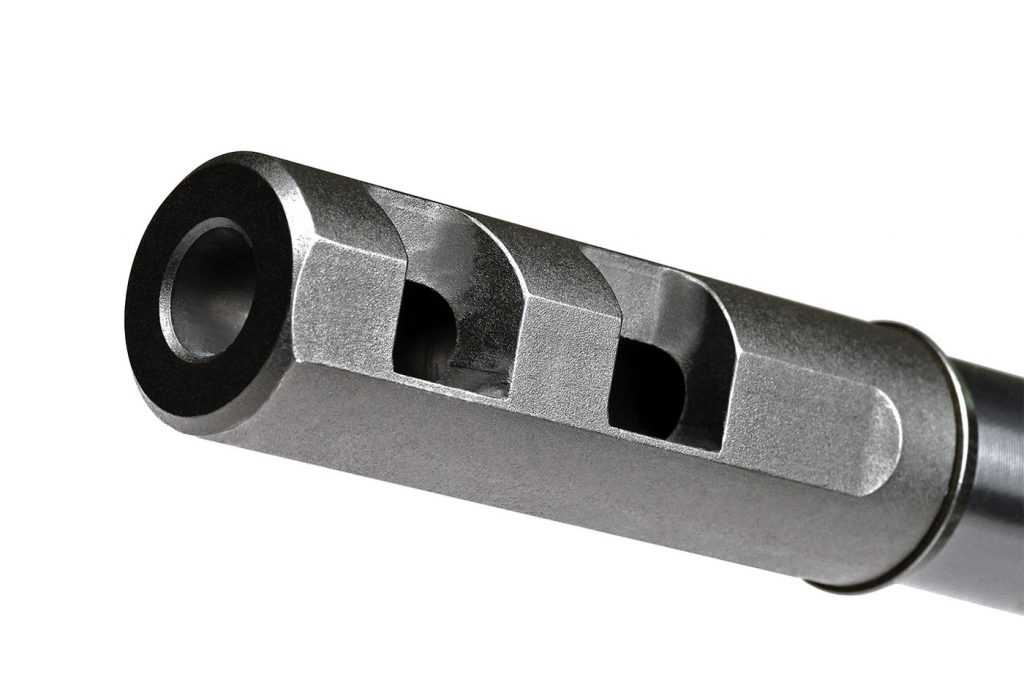 In 6.5 Creedmoor chambering, the Hunter has an 18-inch 5R barrel with a 1:8 rate of twist, and weighs 8 pounds.
Keeping components within the Vista Outdoor family of companies, the Hunter wears some upgraded furniture from Blackhawk, including a Blackhawk Knoxx Axiom carbine stock with multiple integrated QD sling mounts and a substantial butt pad that does a pretty good job of soaking up recoil. The rifle also has a Knoxx AR pistol grip, with a palm swell and textured surface. The grip angle seems just right for me, and I like the natural fit of this grip in my average-sized hand.
The Hunter is equipped with a free-floated Savage hexagonal M-Lok handguard, with a full-length Picatinny rail up top. There are a total of 49 M-Lok attachment points at the 1, 3, 5, 6, 7, 9 and 11 o'clock positions, allowing you to accessorize to your heart's content and turn this lightweight AR into an anchor, should that be your preference.
Equipped with a proprietary Savage muzzle brake, the rifle's muzzle is threaded 5/8-24, so you can attach muzzle devices or suppressors of your choice.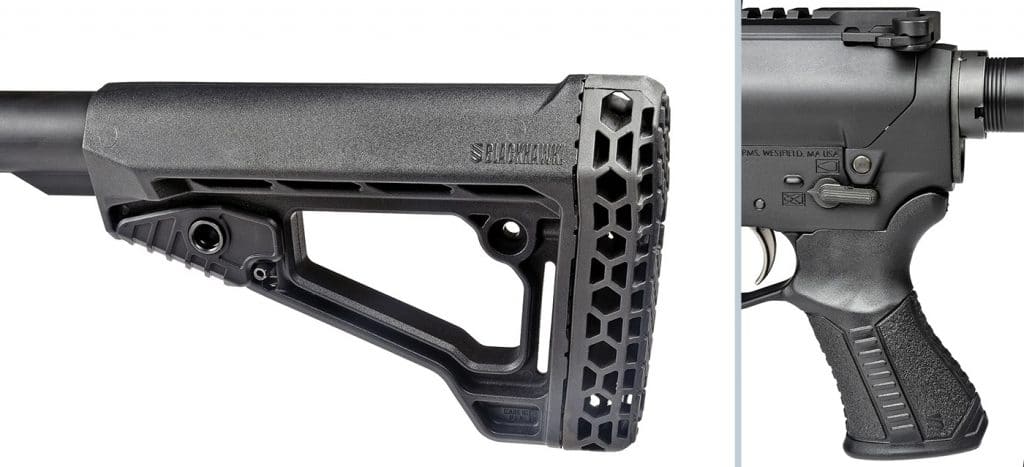 A quick inspection reveals that, internally, the guts of this rifle consist of high-quality components chosen for reliability and longevity. To extend the life of the bolt, Savage used high pressure-tested E9310 steel, a superior alloy of the type used in transmission gears of Formula 1 racing cars. It typically increases wear and abrasion resistance and passes the most rigid magnetic particle inspections.
The gun uses M4-style feed ramps, and is equipped with dual ejectors for reliability. It has a mid-length gas system with an adjustable gas block for fine tuning performance to specific loads.
The Hunter is equipped with a nickel-boron treated Blackhawk AR Blaze trigger. It's supposed to be an improvement over mil-spec triggers, and it is—up to a point. I measured the pull weight of the trigger in the production rifle at a heavy-but-consistent 6 pounds, 4 ounces, which is about three pounds heavier than I prefer for a hunting rifle. The trigger had a fair amount of creep in it, and it took a bit of practice to get a feel for when the trigger would break. If the rifle were only going to be used for tactical or home-defense purposes, that's fine, but anything with the word "hunter" in the name deserves a trigger built for that purpose. It's the only component of the rifle that doesn't get a fully passing grade from me, and if the rifle were mine and I planned on using it only for hunting, I would swap out the trigger.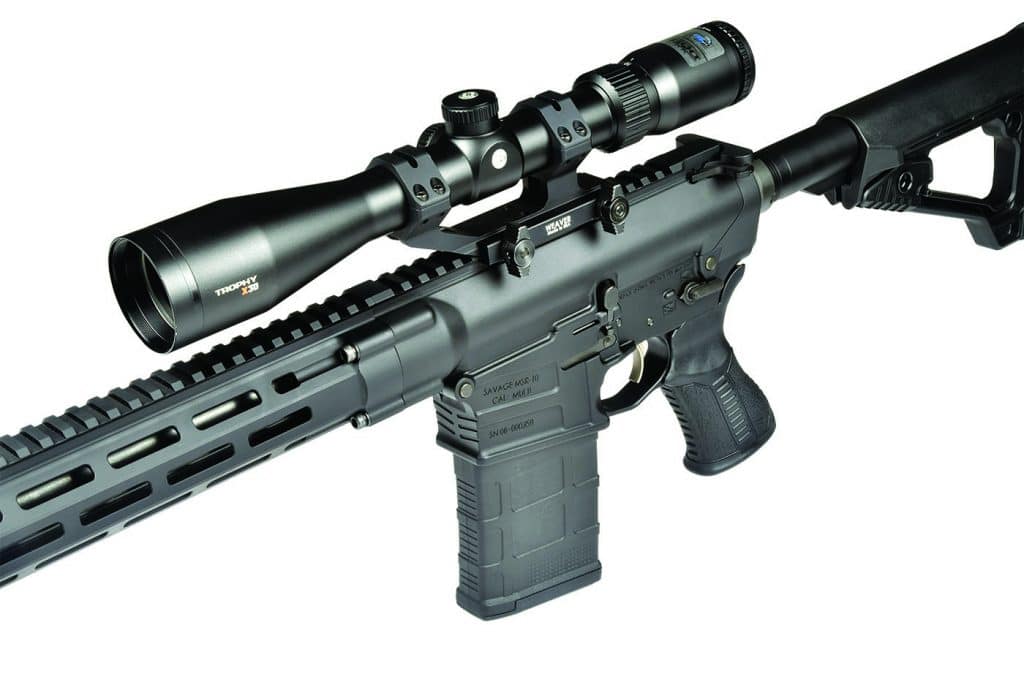 Of course, when you're as finicky about triggers as I am, you end up swapping out triggers in most factory ARs, and you'll pay for that. ARs that ship from the factory with high-end triggers tend to come with a corresponding bump in price, but the Hunter is priced for the masses with an MSRP of $1,481.
Happily, the Hunter experienced zero mechanical malfunctions of any kind in testing or during my hunt. A variety of factory ammo fed, fired, extracted and ejected without a single issue. Controls are in the standard locations and configuration, and worked as they should.
I was keenly interested to see what sort of velocities the rifle's relatively short 16 1/8-inch barrel would produce. Testing over my CED M2 chronograph revealed that most of the factory loads I tested had some minor velocity drop-off from factory-stated numbers, as expected. The reduction in velocity ranged from 56 f.p.s. to 155 f.p.s. Velocities averaged 2,469 f.p.s. to 2,624 f.p.s. for the heavier bullets tested. The hottest load of the bunch, Federal's 150-grain Fusion MSR round, actually stepped out 39 f.p.s. faster than advertised, and proved to be deadly efficient on hogs. This round is one of the newer factory offerings optimized for peak performance in AR-platform rifles, as is Hornady's Precision Hunter Black line of ammo.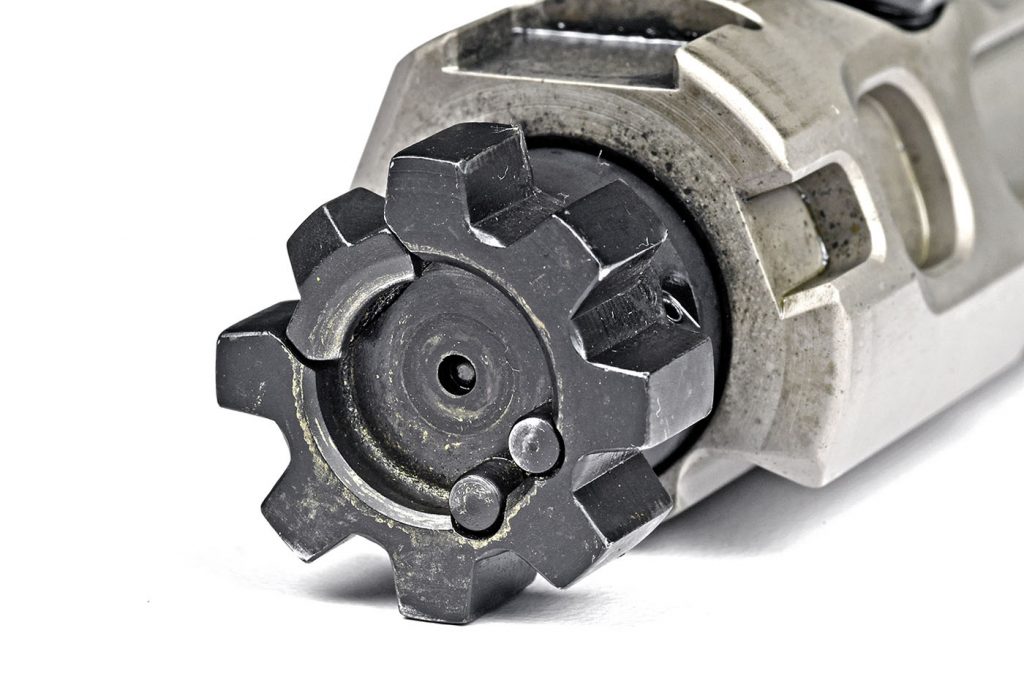 The Savage brand is synonymous with out-of-the-box accuracy with bolt-action rifles, and I wondered if that would also translate to the AR platform. I needn't have worried. Accuracy testing produced some pleasantly surprising results, despite the less-than-perfect trigger. To put the rifle through its paces, I mounted a Bushnell Trophy Xtreme X30 2.5-10X scope in a 30 mm Weaver SPR tactical mount, which positions scopes at an optimal height and forward cantilever for AR-platform rifles.
All five tested factory rounds produced average groups measuring an inch and a half or smaller, at 100 yards, which is perfectly acceptable for the vast majority of hunting situations this rifle might be used for. Two of the rounds produced one-inch average groups, and three loads put bullets into sub-MOA best groups. The single-best group, measuring 0.69 inch, was turned in by Hornady's Precision Hunter Black 168-grain A-MAX load. With a change to a lighter, upgraded trigger, I'm convinced that I could shoot even tighter groups with this rifle.
The Savage MSR 10 comes with a 20-round Magpul P-Mag magazine and a one-year limited warranty. For more information, contact Savage Arms Co., Dept OT: Tel.: (800) 370-0708; Web: www.savagearms.com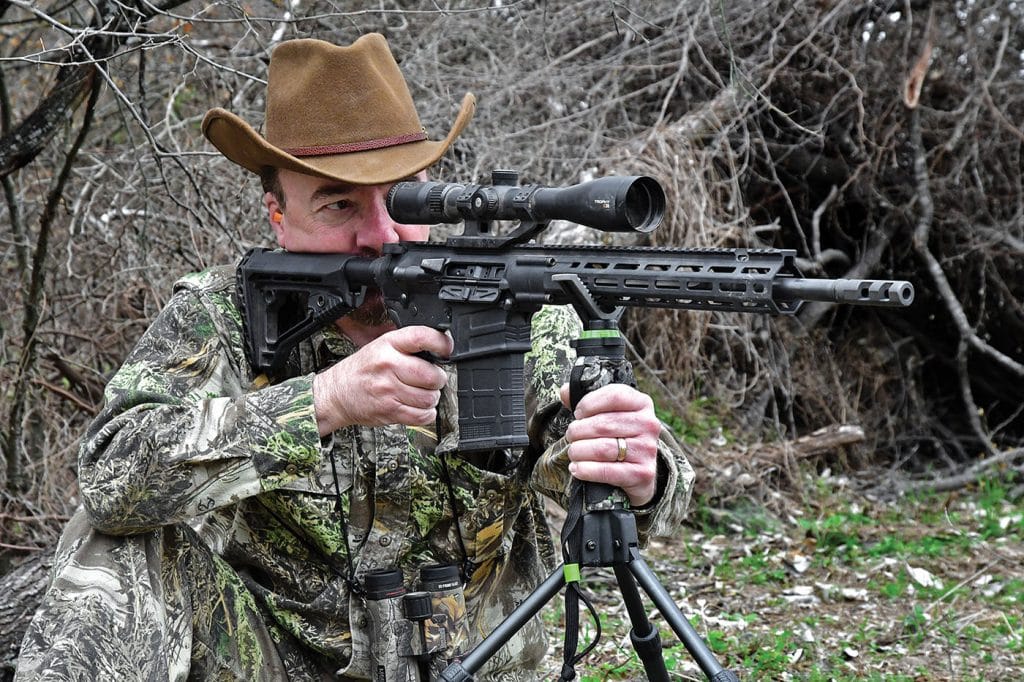 Savage MSR10 Hunter 308 Win.
LOAD                             AVG. MUZZLE          AVG. 100-YARD         BEST 100-YARD                                         VELOCITY (FPS)      GROUP (INCHES)      GROUP (INCHES)
Federal Fusion MSR                         2809                   1.39                   1.22
150-gr.
Federal Premium Gold                      2495                   1.31                   0.71
Medal Match 168-gr. BTHP
Hornady Precision Hunter                 2549                   1.01                   0.69
Black 168-gr, A-MAX
Hornady Precision Hunter                 2469                   0.99                   0.83
178-gr. ELD-X
Winchester Match                            2624                   1.56                   1.27
168-gr. Matchking BTHP
Note: Velocities measured with Competitive Edge Dynamics M2 chronograph. All groups fired in wind 8-14 mph at 100 yards.
Source Article from http://ontargetmagazine.com/2017/12/a-savage-hunter/