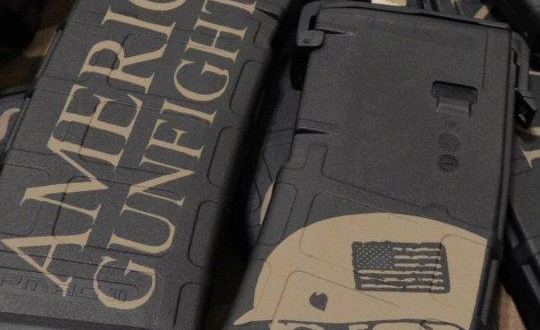 A Breon Custom's is doing something unique in the tactical market. This is not a vinyl overlay or  a stipple job. They are not painting Glocks with crayons or toe nail polish as we have seen on YouTube. Adam has developed a unique application that involves a Polymer infusion to create multiple colored custom creations on any polymer or Kydex surface.
Check out some samples below.
Who is A Breon Customs?
Adam Breon who is a Battle Creek native that now resides in Ohio is a unique polymer artist. All the work you see above is hand done. This is not pre cut patterns or machined laser etching. This is one of a kind hand developed work. The best part is while the designs can be both colored and intricate they add no actual width or texture to the mag. So for those of you who are not looking to loose the feel of a traditional Pmag this is your first real customizable option.
 
A Breon Customs was officially started in 2010 by Adam Breon and his wife. However the initial research and prototypes began development back in 2009. After a year of research and development Adam built a product he was proud of. This is one of the things that truly speak to these types of customs shops I have found in Michigan. These are not big companies looking to turn out a product at the highest ROI. These are skilled American craftsman who take pride in their work and favor quality over profit margins. 
From its inception A Breon Customs has focused on quality product at a fair price as its marketing. No they do not use that as a slogan on their marketing that mindset is their entire marketing plan and budget. They do not buy Banners, Facebook posts or Advertising space instead they rely on word of mouth and referrals to expand the operation.  Unless you have an incredibly well built product that is a fast track to failure. After 3 years of success with constant growth, Adam looks like he made the right choice.
We are luck enough to not only speak to Adam and get to see his work hands on, but we also had the pleasure of speaking about the future for A Breon Customs. The fact is this company is likely to be a tactical house hold name in the very near future. Keep an eye out for some exciting developments that are coming down the pipe.
Why Not Lasers?
Lasers are becoming more and more a part of modern manufacturing. The ability to recreate a precession design time and time again using automated systems is a marvel of our age. However lasers still have their limitations. One of those in regards to work on polymer and kydex is the limitations of color etching. However the infusion system used by Adam allows for multiple colors over a wider spectrum then found from more mass produced retailers. Further the unique hand by hand work ensures that your finished product is unique to your order.
I can tell you from holding and touching the Pmag they sent us this feels nothing like any custom work I have seen. There is no raised or depressed edges, no vinyl to rub off and it is smooth and beautiful. The pictures really do not do this work justice.
Who Is This For?
Everyone likes to be different from the rest of the crowd at some point in their life. A Breon Customs is the company that can make it happen. It is always a tough decision for my friends when looking to purchase a firearm. They want guns like Glocks due to the reputation the have built but hate the cookie cutter look of being like everyone else. Pmag's fall under the same category. We did an article on stippling in the past which many are doing now for both the feel and the different look it offers. If your looking to change up your style but not the feel of your mag, grip or stock this is a great way to do it.
This work is for the person or company who wants that Real American Made custom feel on their polymer or kydex gear.  I personally enjoy finding and learning about companies like this. It gives you a lot of pride knowing you're supporting a very unique company and knowing in a very big way you are now part of that family.
For those of us in business looking to get branding or name recognition these work great. Imagine sending your vendors, largest customers or potential leads a customised Pmag with your logo on it. I know it would make me think about the company a lot more than a sticker, morale patch or christmas card.
Leave your comments below and let us know what you think of the work you see here. Or check them out here: http://www.abreoncustom.com/