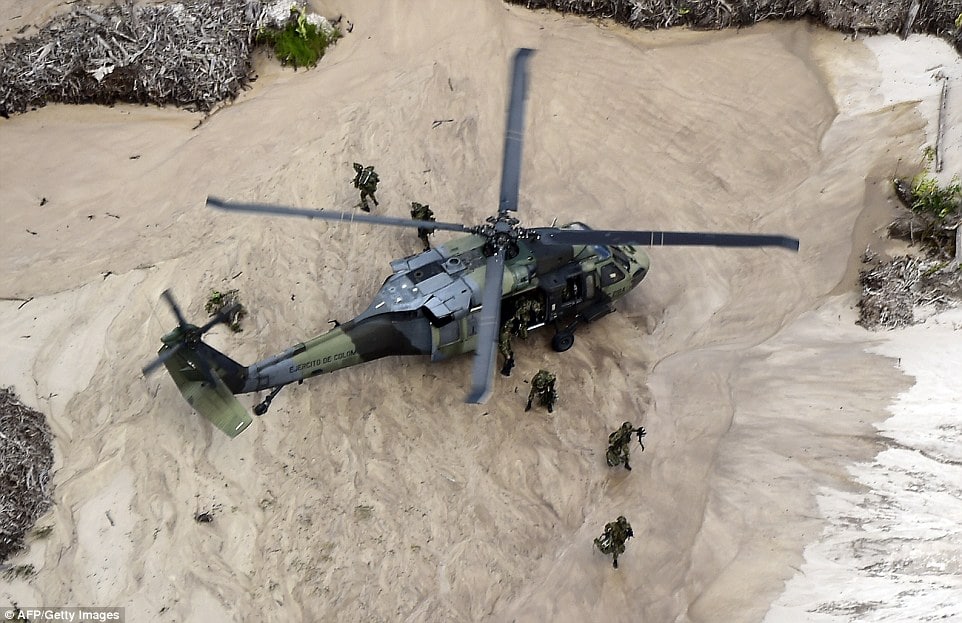 After Colombian government published pictures and videos from their latest assault on the illegal mining acitvity, showing some implausible action sequence like from a Rambo movie – but these were the astonishing scenes deep in the Amazon rainforest last week.
As the Colombian government launched a massive assault on the illegal mining activity funding rebel groups in the country – around 600 special force troops supported by Black Hawk helicopters and inflatable special forces boats swept a rugged area of jungle covering more than 270 square miles in complex operation.
The complex operation, a crackdown on leftist guerrilla groups, came in response to a recent video of rebels brandishing the severed leg of a government soldier maimed by a landmine as a war trophy.
The Black Hawks helicopters were pictured soaring above the treeline before landing in a clearing – at which point troops armed with machine-guns and explosives charged out of the aircraft.
They arrested 59 people during the assault, including 12 members of the the country's biggest and most dangerous rebel group, the Revolutionary Armed Forces of Colombia (FARC).
More than 220,000 people have died in the Colombian conflict since the FARC's founding in 1964.
The Defense Ministry say mining activity in the rainforest region generates more than £5million a month for the rebels and said the military operation was the biggest blow to the illegal trade in a decade.
The rebels were running mines in five undeveloped eastern provinces where metals such as tungsten, gold and coltan are extracted.
The mining activities take place mostly in areas of environmental conservation such as moors, rivers and forests – and are known to cause pollution to ecosystems, loss of animals' habitats and displacement of native communities.
The mines targeted during the sting, called Operation Anostomus, were located in the jungles of the departments of Guainia and Vichada, at Puinawai Nature Reserve.
Colombian President Juan Manuel Santos ordered the crackdown after expressing disgust at reports that the National Liberation Army (ELN), another rebel faction, had placed an anti-personnel mine in a children's park in northwestern Colombia, blowing off both of a soldier's legs.
Speaking during a visit to Mexico, Santos said laying landmines 'is already a savage act' but 'showing a leg like a trophy next to a college, that's a barbaric act that borders on madness'.
Take a look on photo gallery to see how it was look like during Operation Anostomus executed by Colombian Special Forces: