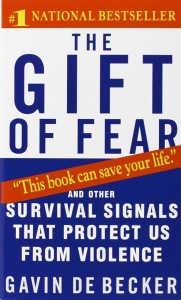 When it comes to understanding human dangerousness, mindset and self-defense, there are a few books I highly recommend:
Gavin de Becker developed and sold a profiling system called Mosaic used by the US Marshals and other government entities many years ago.  He also has done a lot of work with anti-stalking, domestic violence and celebrity protection in and around Los Angeles.  In his book The Gift of Fear: and Other Survival Signals That Protect Us From Violence, de Becker outlines the psychology behind understanding when to trust your instinct to survive.  He articulates the reasons behind why we feel the way we do—those anciently embedded survival instincts.  There's a lot of good stuff in this book if you can get past his anti-gun stance.
Deadly Force Encounters: What Cops Need to Know to Mentally and Physically Prepare for and Survive a Gunfight was written by Dr. Alexis Artwohl, a well-known police psychologist and researcher.  Loren W. Christensen is a retired police officer with a lot of experience.  This book delves into what happens to our minds and bodies during lethal situations.  While the book is aimed towards helping police officers specifically, what happens during deadly force encounters is common to all of us.
On Combat: The Psychology and Physiology of Deadly Conflict in War and Peace is more or less a sequel to Grossman's On Killing.  While On Killing was geared more towards military personnel, On Combat is geared towards both military and law enforcement personnel.  Grossman, a former West Point Academy psychology professor, coined the term killology.  When he wrote about the sheep, the
wolves and the sheepdogs and compared them to society, predators and protectors, respectively, it struck a chord within the protector community that has never been the same since.
Blink: The Power of Thinking Without Thinking doesn't seem like the type of book that has anything to do with self-defense, however, with a closer look, this book shows how we make split-second decisions in, well, the blink of an eye.  Specifically, Gladwell outlines a shooting by the NYPD.  While he occasionally slants his observations to meet his own perceptions, he also brings up some good points.  When it comes to deadly force encounters, a split decision can last a lifetime, so it's worth adding to your bookshelf, although don't put it first on your to-buy-and-read list.
Deep Survival: Who Lives, Who Dies, and Why gives a stunning look into the lives of many different people who have faced horrific and harrowing challenges.  While most of these stories are about airplane crashes, being lost in the wilderness and so forth, a lot can be learned about what's needed in the crucial moments of lethal encounters.  His book Surviving Survival is also very good and can help readers get a glimpse of what happens after experiencing life-altering, traumatic encounters.
In Unbroken: A World War II Story of Survival, Resilience, and Redemption, Laura Hillenbrand outdid herself as both a researcher and a storyteller.  She interviewed Louis Zamperini and made, arguably, one of the greatest discoveries of this generation.  This book outlines the tenacity of one incredible soldier and his will to survive.  Interestingly, it also shows what happens to people after they suffer.  This book was amazing enough to make into a movie, but as some people say, the book is always worth reading first.
Until next time, continue to hone your skills and keep adding to your tactical toolbox.
Source Article from http://www.guns.com/2014/12/13/6-books-for-your-tactical-christmas-stocking/