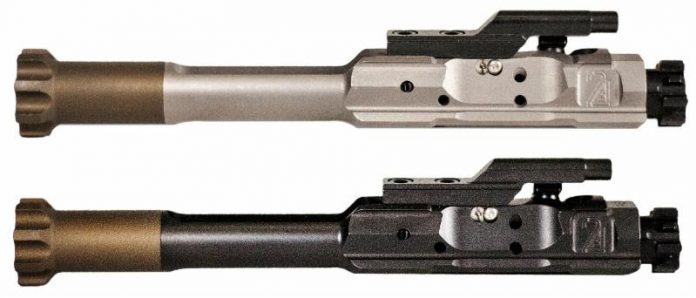 New from 2A Armament and the USPTO! 2A Armament has been awarded the patent for their gas regulation system that has been incorporated in their bolt carrier system by the USPTO. This system allows adjustments in the felt recoil, spent cartridge ejection pattern, as well as eliminating the need to replace other components of the rifle while running a suppressor. Offered in two different variations of lightweight steel (7.9 oz.) and ultra-lightweight titanium (5.9 oz.), these new systems will be sold as complete bolt carrier groups.
The Regulated Bolt Carrier is fully adjustable through the port door so that the rifle does not have to be broken down for adjustment, and can be easily tuned for all combinations of buffers, springs, suppressors and barrel lengths. In fact, it has infinite adjustment – from fully open to fully closed on the regulation gate. The unit also comes with a T-6 Torx tool for adjusting this Idaho-made part, which is available in both steel (black nitride finish) and titanium (black ion-bond or bead-blast matte finishes).
While there are other bolt carriers for AR-15 rifles on the market, none other than the 2A Armament Regulated Bolt Carrier, utilize a gas-regulation gate that can be adjusted to run with an infinite number of setups of barrels, suppressors, springs and more. In fact, the Regulated Bolt Carrier will be the only one available like this for many years; until the patent runs out.
2a Armament isn't stopping there, they are also working on a large frame regulated bolt carrier for those shooters who enjoy the AR10 platform, so stay tuned. For more details on the patent check out USPTO Patent No . 9,857,129 as well as other innovative products at
www.2a-arms.com
.