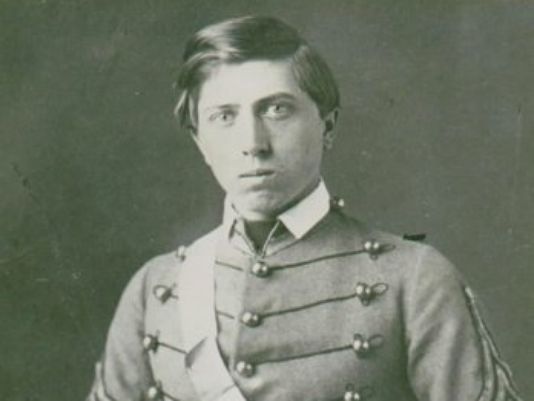 By Max Slowik
West Point portrait of Lt. Alonzo Cushing. (Photo: U.S. Army)
Thanks to four decades of tireless lobbying by one Margaret Zerwekh, Civil War hero Lt. Alonzo Cushing will be recognized with the Medal of Honor.
While no one doubted the valor of this brave soldier's actions at the turning point of the Battle of Gettysburg, there has always been a limited window for awarding the Medal of Honor. That's what Zerwekh fought to change and in December of last year, she succeeded.
With the time limit gone Cushing and two Vietnam War soldiers are being recognized for their historic deeds.
"'That's incredible,' said Zerwekh, 94 and in failing health. She became interested in Cushing after marrying her second husband, who had purchased the Cushing family property in 1947.
"'He saved the union is what he did,' Zerwekh said," reports USA Today.
Cushing is being hailed for "distinguished himself during combat operations against an armed enemy in the vicinity of Cemetery Ridge, Gettysburg, Pennsylvania, on July 3, 1863," in a statement from the White House.
Left to right: Lt. Alonzo Cushing, Capt. L. Kipp, Maj. Clark, Lt. Col. Joseph Taylor, Maj. Gen. E.V. Sumner, Capt. Samuel Sumner, Surgeon Hammond and Lt. Col. Lawrence. (Photo: Wisconsin Historical Society/AP)
"First Lieutenant Alonzo H. Cushing will receive the Medal of Honor posthumously for his actions while serving as commanding officer of Battery A, 4th United States Artillery, Artillery Brigade, 2nd Corps, Army of the Potomac."
"Refusing to evacuate to the rear despite his severe wounds, he directed the operation of his lone field piece continuing to fire in the face of the enemy. With the rebels within 100 yards of his position, Cushing was shot and killed during this heroic stand. His actions made it possible for the Union Army to successfully repulse the Confederate assault."
The two other soldiers to receive the Medal of Honor are Army Command Sergeant Major Bennie G. Adkins Army Specialist Four Donald P. Sloat for their actions during the Vietnam War.
The Army will be accepting the Medal of Honor on Cushing's behalf as he has no descendants. He was killed at the age of 22 as a result of a gunshot wound to the head. The medal is expected to be placed on display in the city of Delafield outside of Milwaukee, whose mayor contributed in the fight to end the time limit on awarding the Medal of Honor.
For more about Pickett's charge check out the Wikipedia page detailing this chapter of the Civil War.
The post 151 years later, Civil War soldier awarded Medal of Honor appeared first on Guns.com.
Via:: 151 years later, Civil War soldier awarded Medal of Honor