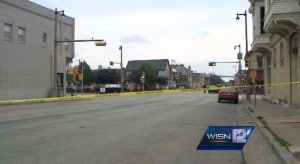 Alderman Jose Perez said the workers left in a group, just as they should have to deter crime, but it was just bad timing, not a reflection on the neighborhood. (Photo: WISN)
A 15-year-old boy was fatally shot and several other teens are now in custody following an attempted robbery early Monday morning near downtown Milwaukee.
According to a local ABC affiliate, a group of employees were leaving a local tavern around 5:30 a.m. when they were approached by several teens attempting to rob them. However, one of the would-be victims produced a handgun and opened fire, striking one of the suspects and sending the others fleeing.
The injured suspect, who police describe as a "known gang member," died as a result of the gunshot wound. His name has not been released.
Authorities said the would-be victim and the suspect were acquainted, but did not elaborate on how.
Lt. Mark Stanmeyer confirmed the teen had a prior record, which included both armed robbery and auto theft. This wasn't the first time he had been shot participating in such activity. Stanmeyer said the boy had also been shot during an incident on Aug. 1.
Following Monday morning's attempted robbery, five more suspects were arrested, ranging in age from 14 to 18 years old. According to Capt. Aaron Raap of the Milwaukee Police Department, authorities believe the suspects, as well as the deceased teen, were involved in a string of dozens of robberies in the area within the last three days.
Joshua Ebert, who lives in the area where the shooting occurred, told a local Fox affiliate he witnessed part of the aftermath.
"I looked out my window, and my building was surrounded by police. When I went to the rooftop, I could see a — you know, the coroner had the body covered over in the corner of the parking lot," Ebert said.
Jay Purdy, who works nearby, told reporters the incident hasn't changed the way he feels about the area, which he calls a good neighborhood.
"I've never seen anything bad happen down here. I like bringing my kids down here and I feel safe," Purdy said.
The 30-year-old man responsible for shooting the teen was initially taken into police custody for questioning but has since been released. However, he will later report back to the district attorney's office, presumably following the close of the investigation.
Authorities said it appears at this point that the man acted in self-defense.
The post 15-year-old gang member shot by victim during attempted robbery for the second time in a month (VIDEO) appeared first on Guns.com.
Via:: 15-year-old gang member shot by victim during attempted robbery for the second time in a month (VIDEO)