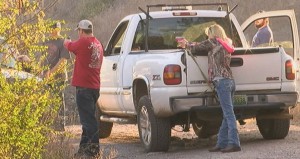 The past year has been filled with an abundance of defensive gun uses. In fact, while the vast majority went unpublished, Guns.com typically tried to cover at least one each day. But of the hundreds of defensive gun uses our readers saw this year, there were a few which received more attention than the others.
Here is a list of the most viewed, shared and comment-grabbing defensive gun uses of 2014.
1. Father of five with a .45 fatally shoots intruder armed with 9mm
The armed suspect broke into the Nashville home in November looking for cash and valuables, but what he found instead was a man armed with a .45. After being shot several times by the homeowner, 26-year-old Jonathan Corke attempted to run off, but collapsed in the yard and was later pronounced dead.
This incident not only made it to the top of the defensive gun uses for 2014, but also earned a spot among the top 10 most popular Guns.com posts this year.
2. Store clerk kills would-be robber in Houston convenience store
A man armed with a shotgun attempted to rob a family store in Houston in September, but the store owner passed his 20-year-old son a 9mm. The suspect was initially shot in the leg, but when he raised his shotgun at the owner's son after being shot, the son fired at him again, this time striking him in the chest several times. Part of the incident was captured on the store's video surveillance. The suspect later died of his injuries.
3. Burglary victims hold suspects at gunpoint after passing them on the road with a truck full of loot
A burglary spree earlier this month in Warrior, Alabama, came to an abrupt end when two of the previous victims, who had captured images of the suspects on a home video surveillance system, happened to pass the suspects on the road. The truck driven by the suspects was full of loot, as they had just burglarized another home. The previously burglarized couple held the suspects at gunpoint until police arrived a few minutes later.
4. Armed Detroit nurse saves man being beaten by angry mob
After accidentally striking a 10-year-old boy with his truck on a Detroit street in April, Steve Utash got out of his vehicle to help the boy, only to be greeted by an angry mob who beat him so severely he ended up in a coma. But when Deborah Hughes witnessed the attack from her apartment across the street, she grabbed her handgun and went to intervene. Hughes commanded the mob to back off and not lay another hand on Utash before she quickly went to work administering first aid until an ambulance arrived.
5. Intruder fatally shot after assaulting 2 women, killing the family dog
A rural South Carolina home invasion turned violent when the two suspects began to assault two females and an 11-year-old boy. But unbeknown to the suspects, there was another person in the house, asleep in a back bedroom, and when he heard the commotion, armed himself with a rifle. An exchange of gunfire ensued between the man and the suspects, who shot and killed the family's dog as they fled. When authorities arrived, they found one suspect dead and the other was later arrested.
6. Man who fired warning shot says gang threatened to rape wife
When a West Virginia couple was walking home after church one evening in September, they found themselves surrounded by a group of nine suspects who threatened to cut the man and rape his girlfriend. The woman drew a pistol from her purse, hoping the sight of the gun would be enough to scare them away, but it wasn't. Her boyfriend took the gun from her and fired a warning shot, which eventually dispersed the gang.
7. Chicago reports state's first defensive gun use by concealed carry permit holder
After struggling with an ever-increasing crime problem and fighting for individual gun rights, Chicago's first known case of defensive gun use by a legal concealed carry permit holder came in April. No shots were fired, but the victim was able to scare away two men who approached him outside of his home in what was believed to be an attempted robbery.
8. Florida man uses AK-47 to defend himself against three armed assailants
When three suspects, at least one armed with a gun, broke into one man's home just outside of Fort Lauderdale in January, he used an AK-47 to fend them off after he was severely beaten. One suspect was fatally shot, while the remaining suspects ran from the man's home.
9. Intruder fatally shot during break-in, homeowner charged for firearm violation
Sometimes it's not the defensive use of a gun that makes a story so noteworthy, but what happens after the smoke has cleared. A Jacksonville, Florida, man who fatally shot a suspect that broke into his home in January, ended up facing gun charges. Although he was able to protect himself, he was not legally allowed to possess a firearm.
10. Man who beheaded woman at Oklahoma food plant stopped by armed CEO
The beheading of a woman at a food processing plant outside of Oklahoma City in September was one of the year's more cringe-worthy headlines. But soon after the incident, a secondary story emerged – the story of the armed CEO who stopped the attacker from inflicting harm upon anyone else.
Additionally, while none of them made the top-10 list, it's worth mentioning the citizens of Detroit — backed by the support of the police chief and fed up with the seemingly out of control crime — started fighting back against criminals earlier this year, seeing at least half a dozen defensive gun uses and a notable drop in the crime rate, according to police.
Source Article from http://www.guns.com/2014/12/30/10-most-talked-about-defensive-gun-uses-of-2014-video/