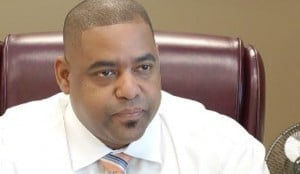 By Chris Eger
Richmond County Sheriff Richard Roundtree, elected in 2012, is the defendant in a lawsuit filed by a gun rights group over a 10-day waiting period on used guns in the county. (Photo: NBC26)
Georgia Carry is taking a county sheriff to court over a 10-day waiting period on sales of used guns they contend is in violation of state laws.
The suit, filed in Richmond County Superior Court this week, names Sheriff Richard Roundtree as a defendant and is seeking the county's ordinance on selling used weapons be overturned. Currently, the ordinance places a mandatory 10-day hold on used firearms before a dealer can resell them. The gun rights group maintains this violates Georgia's preemption law that prohibits counties and cities from regulating the sale of firearms.
"Plain and simple, Richmond is violating state law by controlling the sales of used firearms as the state has no statute for a waiting period to sell any firearm," Georgia Carry President Jerry Henry told Guns.com on Thursday.
"Municipalities have the responsibility to enforce their ordinances and state laws and in doing so, no municipality is above the law. They have the right enforce their laws but their laws must pass constitutional muster," Henry said. "The Richmond County ordinance in question does not do that."
Georgia Carry filed the lawsuit as a co-plaintiff with Kevin Fox, a member of the group who works in the Richmond County area. In July, Fox attempted to transfer a gun from an individual in South Carolina to an individual in Georgia and ran into the 10-day hold requirement at an area gun dealer. Generally, the requirement to hold used guns for ten days, established by a city ordinance in May 2013, is to give local law enforcement a chance to verify the firearm is not stolen.
However, state law holds that no county or municipality shall regulate the "transfer, sale, purchase, licensing, or registration of firearms or components of firearms; firearms dealers; or dealers in firearms components."
Recently a federal judge ruled that arbitrary gun waiting periods, for those who already own guns and can legally possess them at least, are unconstitutional under the Second Amendment. Besides California, ten other states have laws requiring some sort of waiting periods, with Georgia not on the list.
Georgia Carry has in the past filed several suits in lower courts challenging city and county laws that violate the state preemption statutes. One of these, against Coweta County in 2007, specifically sought to have a local ordinance against carrying firearms voided. The case was lost in a trial court but was upheld on appeal when the higher court agreed that Coweta's law was in violation of the state's law.
This leaves Georgia Carry with a high degree of confidence in this latest filing.
"We feel confident that the court will, once again, agree with GeorgiaCarry.Org and rule in our favor," Henry said.
The post Georgia gun rights group files suit over waiting period appeared first on Guns.com.
Via:: Georgia gun rights group files suit over waiting period